Rick Santorum's Iranian Obsession
Former Senator's tough talk is nothing new.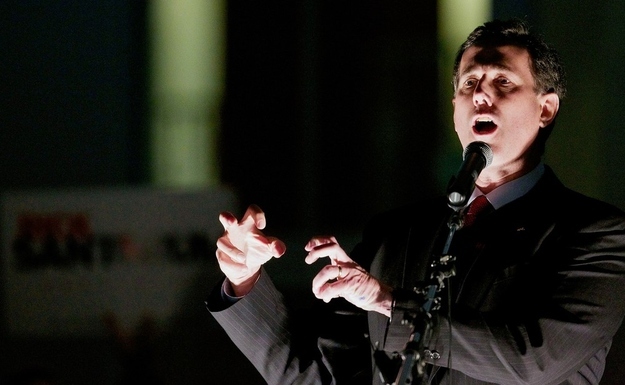 Former Senator Santorum, who now regularly warns that Iran's leaders are suicidal extremists on a quest to destroy Israel with nuclear weapons at any cost to their own people, was an Iran hawk well before it became a central preoccupation of the Republican Party.
Indeed, while his hard line troubles those who fear another war in the Middle East, his abiding concern highlights something that appeals to primary voters: Santorum's consistency on a range issues. While Newt Gingrich and Mitt Romney explain away flip-flops, a detailed look at Santorum's record on Iran, as on other issues, reveals almost no change.
As a Senator in 2004, Santorum introduced the Iran Freedom and Support Act of 2004, which authorized President Bush to provide $10 million in assistance to qualified foreign and domestic pro-democracy groups opposing the government of Iran.
The aggressive actions by the Government of Iran to support terrorist organizations, develop ballistic missiles, urge violence against Americans in Iraq, and hide information about its nuclear activities are a major concern to those who value peaceful relations between people living in the Middle East and to United States' national security objectives in the region," Santorum said at the time.
When campaigning for re-election in 2006, Santorum attempted to make Iran an issue.
"The principal leader of this Islamic fascist movement is Iran," he said in a speech to the Pennsylvania Press Club while campaigning."I believe this is the greatest enemy we will ever face. This is the enemy of our generation. It is the challenge of our time. And yet, we tend to play politics with it here in America -- sadly."
Santorum's sought at the time to use the issue to highlight his foreign policy credentials, and to draw a contrast with the less-experienced State Treasurer Bob Casey's little experience. But he failed during the campaign to attract public interest in the subject.
Santorum's Persian preoccupation didn't end after he left the Senate. As a senior fellow at the conservative Ethics and Public Policy Center Santorum wrote more than 40 articles on the nation.
In one of those articles, penned by Santorum in 2008, the former Senator praised then candidate Obama for talking tough and Iran. Santorum said the then Illinois Senator should "embrace the Bush Doctrine," of a preemptive strike on Iran.
In a recently removed 2010 video on the Vimeo channel of ExpressRiders.org, Santorum pitched potential investors on a full-length feature film on the Iranian nuclear threat.
"I'm getting into the movie business," Santorum said, "this is a movie that needs to be made."
(ExpressRiders.org is a private website launched by current Santorum SuperPAC bankroller Foster Freiss. Freiss describes the site as "private, secure network just of leaders, to allow you to coalesce your ideas with similar leaders across the country.")