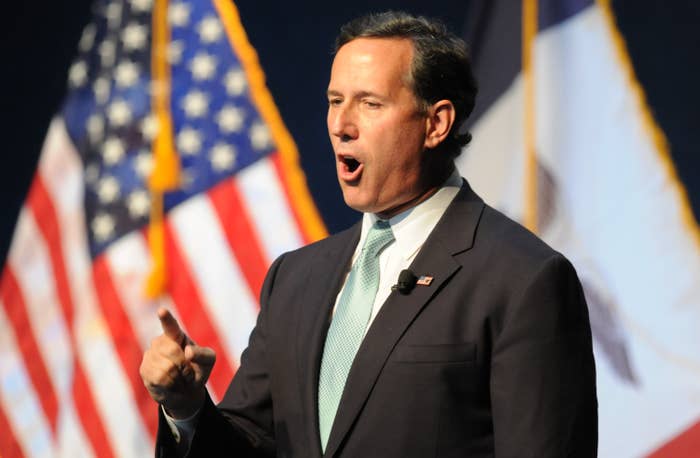 Former Pennsylvania Sen. Rick Santorum says parts of Donald Trump's platform actually stem from a meeting last summer in which he and Trump discussed his 2014 book, Blue Collar Conservatives.
Speaking on AM970 The Answer on Wednesday, Santorum, who is polling at less than 1% in most polls, discussed how the meeting came about after Trump heard Santorum talking about Atlantic City's economic woes last year.
"It was actually a very positive thing," said Santorum. "You and I were talking about the closing of – I think it was closing of casinos, businesses closing in Atlantic City, and you were talking about the jobs being lost. And I talked about how, you know, the business climate in New Jersey, whatever it was. But Trump heard that, he was listening to your show, and thought that it was nice of me not to throw him under the bus – which I did not. And so he reached out to me and said, you know, 'Hey, thank you for not throwing me under the bus.'"
After the comments, a meeting was held weeks later, Santorum said.
"And so that lead to a meeting that we had, when I was up in New York several weeks later. This was last summer, and several weeks later I was up in New York, and I had a meeting with him," the senator added. "And I recounted, when I walked into his office, he was holding a copy of my book Blue Collar Conservative. And he was saying how he had liked the book, he had read the book – of course, I didn't believe he had read the book, I say, you know what, I can't believe Donald Trump read my book, and he assured me that he did."
Santorum claimed much of Trump's 2016 platform actually came from his book.
"And actually, some of the things he's talking about on the campaign trail, about making America great again, talking about manufacturing and trade, and immigration, and all the things I talk about," stated Santorum. "How we're gonna create a better opportunity for wage earners to be able to rise in this country, and that the Republican Party better change its tune, from just talking about big business and being a completely business-oriented group and talking about what we're gonna do to improve wage-earners opportunity to rise in America, and get better-paying jobs, and be able to better support their families."