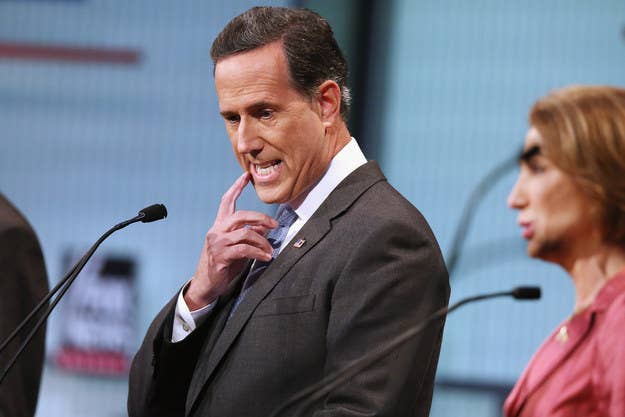 Rick Santorum invoked civil rights leader Martin Luther King's time in jail in his defense of Rowan County Clerk Kim Davis, saying Davis was following the "long precedent" of people in this country disobeying a law they found morally unjust.
"Well here's the situation. We shouldn't be in this position," the former senator from Pennsylvania said last week on New York's AM970 The Answer.
"We shouldn't be in a position where if you have an article of faith that literally prohibits you, from your own faith convictions, from participating in any way in this type of activity, there should be accommodation for people," Santorum said. "This is one of the reasons, as soon as the Supreme Court decision came down, the first thing I said, is we have to begin, because this assault on people of faith is gonna happen. And we have to protect people from the idea that you can't have an accommodation for people who have very strong religious beliefs that are antithetical to the 'new law' of the country."
Santorum said the case was a clear reason to pass the "First Amendment Defense Act" at the state and federal level. The bill would "bar the federal government from
discriminating against individuals and organizations based upon their religious beliefs or moral convictions that marriage is the union of one man and one woman or that sexual relations are properly reserved to such a marriage."
Santorum cited Dr. Martin Luther King's stints in jail for civil disobedience associated with the 1960s Civil Rights Movement.
"This shouldn't be a requirement in this country that you have to cooperate with something that in many religions is a grave sin in order to hold a job," he said. "Those are the kinds of things that we need to be immediately dealing with instead of, you know, going out and saying, 'wow, you know, we're going to put this person in jail if they don't follow the law.'"
"You know Martin Luther King went to jail because he didn't follow the law. There's a long precedent in America from people saying, 'you know the law has to change to accommodate what is the right thing to do, in their own moral judgment.'"
Santorum concluded by noting he was "proud" of Davis and that the Supreme Court abused their power in their landmark ruling allowing same-sex marriage nationwide.
"That we, you know, we should be able to figure out a way for this to be able to work so we're not forcing people to do things that are against their religious convictions," Santorum said. "And so in many respects, I can tell you I'm very proud of the fact that she stood up for those convictions and she should stood up for what I believe and I think most people who are commenting on this who agree with my position - is an abuse by the Supreme Court of their power.
"As Justice Roberts said that the court acted unconstitutionally. That's why I've said, as president, you know, I would do my best to counter the court's assertions and do what I'm responsible as president to do, which is to uphold the Constitution in a way that's consistent with its language."