Republican Congressman Deletes Statement Calling Bergdahl "A National Hero"
A link on his website, now gone.
Nebraska Republican Rep. Lee Terry appears to have deleted from his website and Facebook a statement praising former American prisoner of war Sgt. Bowe Bergdahl. A link still appears on a cached version of his Facebook and returns a dead link on his website when clicked.
Here's the cached Facebook page with the link: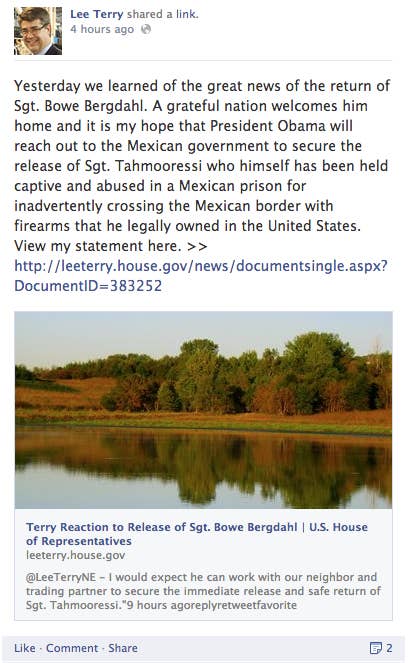 The link is still on Terry's Twitter account but also returns a dead link.
Terry's website has a page where the statement previously was: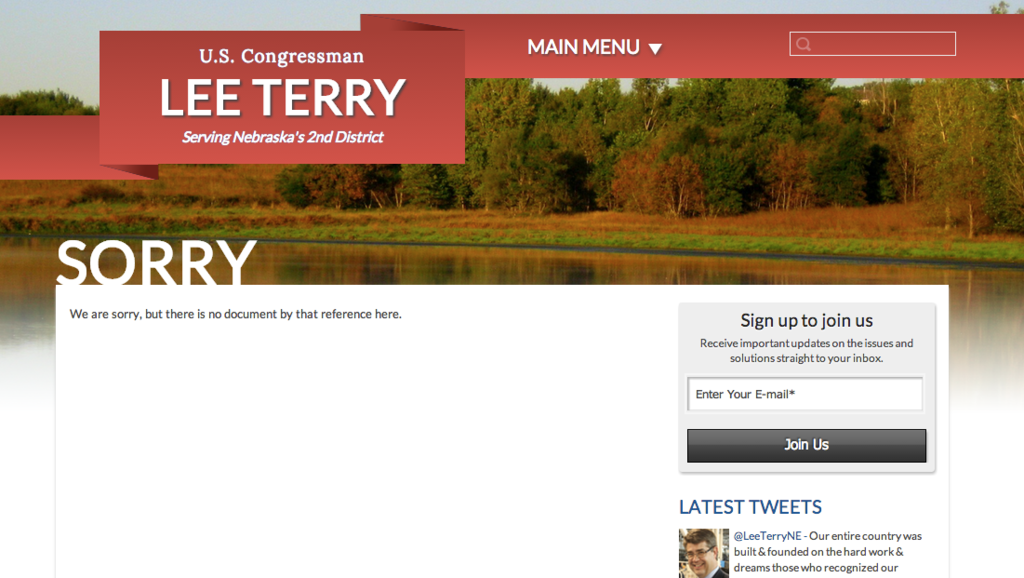 Here's the press release and statement archived on the website Project Vote Smart:
U.S. Representative Lee Terry (R-NE), today made the following statement on the release of Bowe Bergdahl, the only American Prisoner of War in Afghanistan:

"A grateful nation welcomes the news of the return of Sgt. Bowe Bergdahl. I have the pleasure of regularly speaking with our nation's active duty military and veterans and I know that there is nothing more solemn than the pledge to never leave one of their own behind on the field of battle.

"Sgt. Bergdahl is a national hero. It's my hope that once he ultimately retires from active duty service, implementation of reforms to our nation's VA hospitals are made so that he will have access to the long-term care he has rightfully earned from the horrors he endured.

"Furthermore, I call upon President Obama to reach out to the Mexican government to secure the release of Sgt. Tahmooressi who himself has been held captive and abused in a Mexican prison for inadvertently crossing the Mexican border with firearms that he legally owned in the United States. If the President can negotiate with a group who has harbored terrorists and declared war on the United States for the last twelve years, I would expect he can work with our neighbor and trading partner to secure the immediate release and safe return of Sgt. Tahmooressi."
The press release is also archived on the website Legistorm.
Republicans and others have criticized the deal in which five Taliban captives were traded for Bergdahl saying it sets a precedent for the exchange of prisoners of war in the future. Several former servicemembers who served with Bergdahl in Afghanistan have also accused him of desertion.