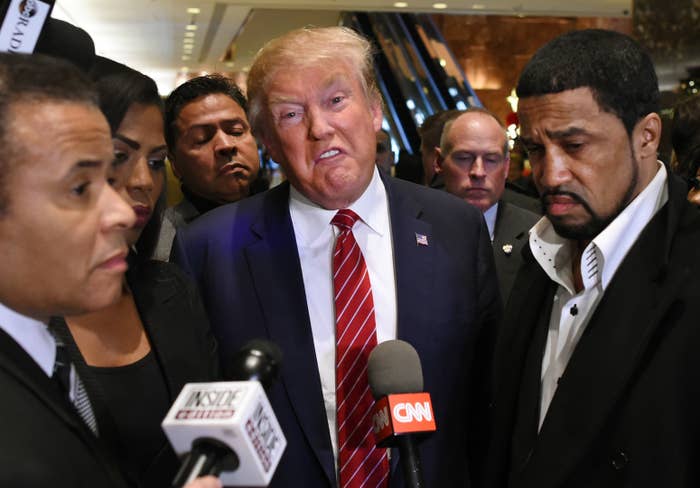 Republican frontrunner Donald Trump's campaign continues to defend his claim that "thousands and thousands" of Muslims in New Jersey celebrated the Sept. 11, 2001, terrorist attacks, but the journalist who reported the story that the Trump campaign cites as evidence says Trump got it wrong.
On Tuesday night, Trump's campaign seized on a 2001 report by a local New Jersey CBS affiliate on allegations of eight people celebrating the attack on a Jersey City rooftop.
"There's another apartment building (in Jersey City), one that an investigator told me, quote, 'is swarming with suspects,'" local CBS reporter Pablo Guzmán reported at the time. "Suspects whom I'm told were cheering on the roof when they saw the planes slam into the Trade Center."
"Now police were called to the building by other neighbors and found eight men celebrating — six of them tenants in the building," Guzmán continued. "The FBI and other terrorist task force agencies that arrived and the older investigators on the task force recall that they had been to this building before eight years ago, when the first World Trade Center attack led them to Sheikh Omar Abdel Rahman, whose Jersey City mosques lies between the two buildings getting attention today."
Trump aide Dan Scavino tweeted it out several times as evidence that Trump's claims were correct.
And Trump himself is now claiming "total vindication" based on the CBS report.
But in an interview with BuzzFeed News, Guzmán described the story as an early report based on speculation from law enforcement sources — which ultimately turned out to be wrong.
"Let me break it down," Guzmán said. "As far as Trump citing the report, I think that they're trying to find ways to back up that claim, but if you go into the report at the time and since, no one was saying thousands of people. I mean, the report that I did was an honest report. And it was based on tremendous sources in the law enforcement community and what they were feeling at that time."
Guzmán cited the report as an example of law enforcement checking every tip in the aftermath of the attacks.
"All the newsmen, I believe, were getting calls from people saying, 'Hey, there's people on the roof, you gotta do something about these people. But then when you went closer to check it out ... there were people who were so pissed off that there was anybody cheering this, and that's, I think, acceptable, that in a kind of a game of telephone it took on a different life."
Guzmán said there weren't "thousands of people" cheering, but noted there were Muslims sympathetic to the attacks happening who were "despised in their own community."
Guzman also noted that Fox News host Eric Bolling — who seized on Guzman's report to say he was right about hearing that New Jersey Muslims were tipped off to watch the attack from rooftops — was wrong.
"There wasn't anything to support that there were co-conspirators living in Jersey City ready and waiting and, when it happened, cheering, or even that there were thousands of people that were sympathetic to that loss of life. There was nothing to back that up. Were there some people? Yeah, and they were the kind of people that you wouldn't want to be in a room with."
Guzmán said reports of someone having an architectural model of the World Trade Center on their roof ultimately turned out to be someone showing their kids how the attack could have happened.
"Calling this a 'hot address,' the task force investigators ordered everyone detained. They saw something else: a model of the Trade Center on the roof along with sets of binoculars," Guzmán reported in 2001. "The kind of model used by an architect or engineer for a presentation, an investigator told me. 'They knew,' he said, 'that the planes were going to hit and they wanted a ringside seat.'"
"Some investigator seized on that to go 'ah-ha!'" Guzmán recalled. However, he said it was later determined that someone was probably "telling their kids or somebody 'this is how this could have happened.' You know, using the model to illustrate what may have happened."
"The report that I did reflected initial impressions by those people in law enforcement," Guzmán said.
Guzmán said Trump's statement had a "grain of truth," but the Trump campaign was using his report to justify statements Trump made when he went "off without a filter."
"But I also think that there was a grain of truth to what was said," Guzmán said. "I'm not gonna say nobody cheered. I don't believe that. I talked to people that I never want to talk to again who thought this was a good thing."
"I think what happens, especially with Trump, he'll go off without a filter and say things that he gets called our for certain specifics, generalizations, or exaggerations. Then [his campaign] doesn't wanna make him look bad, so they say, 'Wait, wait, look at what this reporter said then.' Well, yeah, then, at that time, this is what we knew, this is what we had. And I stand by that."