Just before 2pm on Thursday the Washington Redskins team Twitter account invited users to tweet at Senate Majority Leader Harry Reid to show "what the team means to you."
Reid has led the charge in the Senate demanding the team change their name.
Earlier this month Reid applaud the NBA' punishment on Donald Sterling after racist remarks saying the NFL should use their example of working "to swiftly move to stamp out bigotry in its ranks" and forced the Redskins to change their name.
Last week 50 Democratic senators sent a letter to National Football League Commissioner Roger Goodell asking him to push for a name change for the Washington Redskins.
"The despicable comments made by Mr. Sterling have opened up a national conversation about race relations," the senators wrote. "We believe this conversation is an opportunity for the NFL to take action to remove the racial slur from the name of one of its marquee franchises."
These tweets show an example of Twitter's opinion on the Redskins tweet.
In March, when team owner Daniel Snyder posted a letter to fans announcing the formation of a foundation to serve Native American communities across the U.S. the reaction on social media was a mixture of anger and frustration.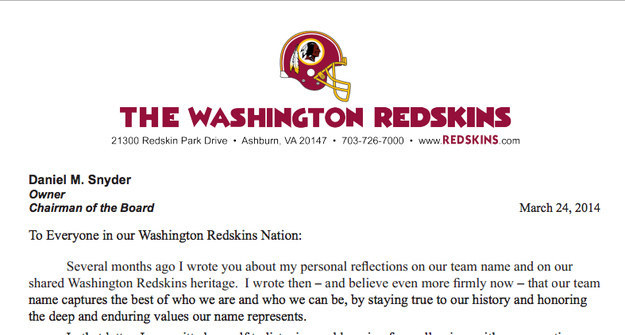 The Redskins have in the past seen their PR stunts end up in a disaster.