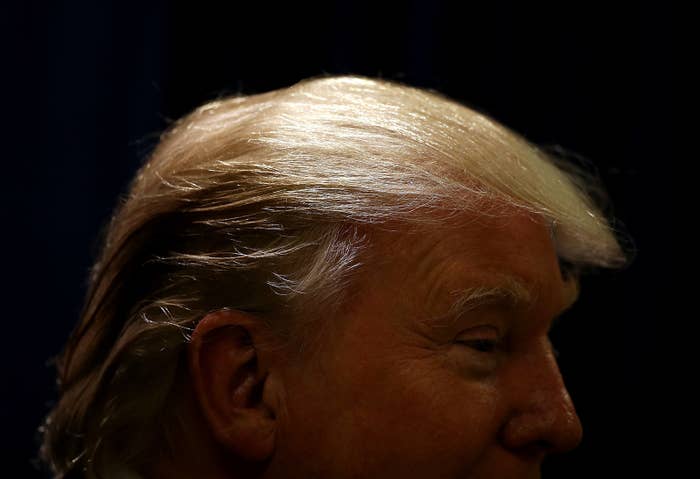 In the 1980s, Donald Trump mentioned on multiple occasions a very specific charitable gift: He said he had donated a building to United Cerebral Palsy.
"I gave a lot of money to United Cerebral Palsy, many millions of dollars," Trump said in 1987 on the Phil Donahue Show. "In fact, I gave them a building."
Trump and his father once memorably watched those with cerebral palsy attempt to walk the stairs of an apartment building they owned, the New York Times reported in 1982. "I decided then and there," Trump told the Times, "to make a gift of the building."
But according to to the building's deed, which was obtained by BuzzFeed News, Trump's parents were actually the ones who donated the building, a luxury apartment complex in East Orange, New Jersey.
The deed lists "Fred C. Trump and Mary Trump" as the donors of building. The building, donated to United Cerebral Palsy's Research and Education Foundation in 1982, had a reported value of $4.75 million. BuzzFeed News obtained the deed for the building by matching housing records with media reports about the donation.
A spokesperson for the Trump campaign did not respond to repeated requests for comment.
There has been mixed reporting of the donation over the years: Fred Trump did receive credit for the donation in his June 1999 New York Times obituary; longtime Queens Rep. Gary Ackerman also credited Fred Trump in a speech on the House floor in 1989. But a 1985 profile, also in the Times, similarly credited Trump and his wife, Ivana, for donating the building.
In the early days of his career in New York real estate, Donald Trump worked under his father, but, by the early 1980s, he was already well on his way to becoming a successful businessman in his own right, having transformed the run-down Commodore on 42nd Street into the Hyatt Hotel, and broken ground on Trump Tower on 5th Avenue. Trump served as a director at Fred Trump's charitable foundation, but a BuzzFeed News review of foundation's tax records from 1980 to 1987 found no personal cash donations from Trump, with most contributions coming from companies controlled by his father.
Over the years, Trump has often made claims about giving proceeds from his various books and business deals to United Cerebral Palsy, which has a national organization and affiliated local chapters. A spokesperson for the national chapter said he did not have information about Trump's donations, and directed BuzzFeed News to the local chapter for more information.
Trump has claimed he has donated millions to the organization, but he's given far less than that — though he has still given a significant amount of money. A spokesperson for New York's UCP chapter said the organization's records from 1974 to 2004 show total donations from the Trump Foundation, Donald Trump, the Trump Organization, and his ex-wife Ivana somewhere between $250,000 to $500,000.
Trump's citing of the group as evidence of his charitable giving goes back years.
In a 1988 letter to the New York Times, Trump claimed proceeds from his book, The Art of the Deal, as well as from his Wollman Rink went to UCP and other charities. In one book from the mid 2000s, Trump recounts returning a call about donating to the group. In Art of the Deal, Trump mentions chairing dinners for them. A Trump employee once told Spy Magazine the small change dropped into the Trump Tower fountain was donated to UCP.
In 2003, Trump cited his donations to UCP while announcing a pledge to match donations up to $1 million to United Way of New York City.
"While I make a lot of charitable contributions, to the Police Athletic League, to the United Cerebral Palsy Foundation, for AIDS research, they're not usually directed to New York," he said, according to the New York Times. "And I think more of them will be, going forward."
Trump and his family have been involved with UCP in capacities other than direct contributions. Trump has been listed at times in reports and his books as an advisory board member to United Cerebral Palsy and served on the board of the group's research and education foundation in the 1980s. A March 2001 New York Post story reported that Trump chaired that year's United Cerebral Palsy gala, which specially honored Muhammad Ali. Trump reportedly took photos with children with the disability and bought them toys from FAO Schwarz. Trump's ex-wife Ivana sometimes hosted galas for the organization in the 1980s when she and Donald were still married.