Rand Paul's Book Publisher To Update Future Printings To Include Attribution To Sources
"To avoid any future misunderstanding, future printings will include the attribution in the narrative," Paul's publisher says.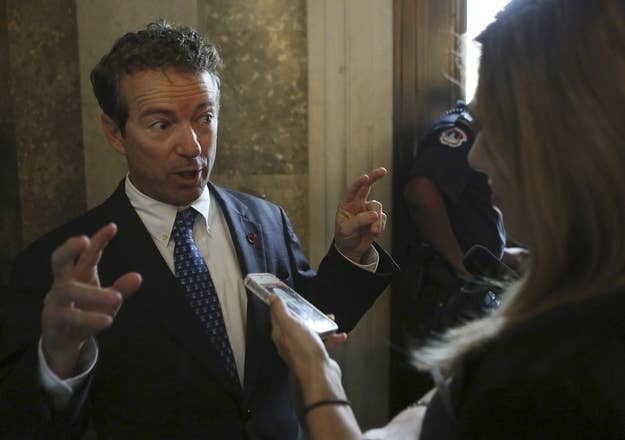 The publisher of Kentucky Sen. Rand Paul's 2012 book Government Bullies is updating future printings to include attribution to a Heritage Foundation case study and report by a Cato Institute scholar he plagiarized. The copied work ran more than three pages.
"We are informed that the material used from the Heritage Foundation and the Cato Institute was used with permission, which was indicated in the source notes at the end of the book," said Rolf Zettersten, the senior vice president and publisher of Center Street, which published the book. "To avoid any future misunderstanding, future printings will include the attribution in the narrative."
Neither Cato Institute scholar Mark Moller nor The Heritage Foundation knew the Kentucky senator had copied their work, but Cato expressed they were OK with Paul using it in his book after being informed by BuzzFeed.
"We like when people cite our work. We wish more progressives would cite our work; maybe then they wouldn't be so progressively wrong," Mike Gonzalez, vice president of communications for the Heritage Foundation, said.
Later, after BuzzFeed's story detailing the plagiarism was published, the Heritage spokesman called BuzzFeed back to say "we don't care" about the copied report.
Senior fellow at the Cato Institute Mark Moller told BuzzFeed he had not given anyone permission to reprint any parts of an article he wrote in the National Wetlands Newsletter.
David Boaz, the executive VP of the Cato Institute, said, after BuzzFeed was asked to call him by Paul's office, "Our ideas got in the book, we got credited in the notes. So that seems like a good thing for a think tank."
The book's source notes indicate Paul did not individually research each case of alleged overreach by the government but he made no effort to indicate that not just the source, but the words themselves, had been taken from other sources.
BuzzFeed reported Monday that transcripts of several of the senator's speeches had disappeared from his website after reports by BuzzFeed, Politico, and MSNBC's Rachel Maddow that said the senator had plagiarized in several of his speeches from Wikipedia or news reports.
BuzzFeed also reported Sunday that a speech from his website was recently updated to include footnotes to Wikipedia.
Speaking on ABC's This Week Sunday, Paul blamed the plagiarism charges on him "being unfairly targeted by a bunch of hacks and haters."