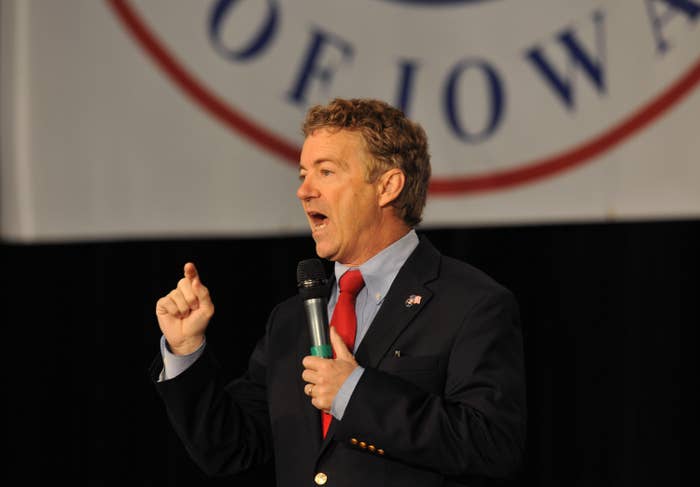 Asked about the Paris attacks, Kentucky Sen. Rand Paul singled out opponent Florida Sen. Marco Rubio on Saturday for blocking an amendment he offered to the 2013 Senate immigration bill that would have made it harder for foreigners from countries with a large jihadist presence to come to the United States.
"We have to protect ourselves, we have to protect our citizens. And this debate's been going on for a while, about two to three years ago in Bowling Green, Kentucky where I'm from, refugees from Iraq that we brought over here — 60,000 of them — two of them tried to buy surface to air missiles and attack people in the United States," Paul said on SiriusXM radio to host David Webb.
"At that time, the immigration battle was going on," he continued. "Rubio had his bill on the floor and I said, 'you know what, why don't we introduce an amendment that would have special scrutiny and screening for people who come from about 25 countries that have large jihadists.'"
The Kentucky senator said Rubio worked with New York Sen. Chuck Schumer to block any amendments to the Senate's immigration bill, including Paul's own.
"Unfortunately, Marco and Chuck Schumer had a secret deal to block all amendments. So my amendment, which would have had special scrutiny for people, foreigners who want to come to our country, was defeated because Rubio was more intent on working with Chuck Schumer than he was in working with conservatives," said Paul.
The two former Iraqi citizens living in Bowling Green that Paul is referencing, Mohanad Shareef Hammadi and Waad Ramadan Alwan, had been attempting to send weapons and money back to Iraq to kill U.S. soldiers.
Paul added his plan to defeat ISIS would involve making sure we "amplify our allies in the region," saying he thought "the best fighters over there are the Kurds."
"I think we should supply arms directly to the Kurds," said Paul." The Shiites in Baghdad, not so much. We gave them a trillion dollars worth of weapons. Five thousand of our soldiers, our young men and women died to liberate them and who's their best friend now: Iran. Who's there second best friend: Russia. So, I'm not sure the Baghdad government is really going to do much. Iran's helping them now, Russia's helping them, but I think we should help the Kurds directly because no one's helping them and they're the best fighters."
Paul said he would encourage Turkey to help in the fight against ISIS as well as help the Jordanians.
"I that there's enough people in the region that if we amplify and help them, I think the boots on the ground ought to be Arabs. I don't want to send Americans back over there. I think the first war was a mistake and I'm not for another one."