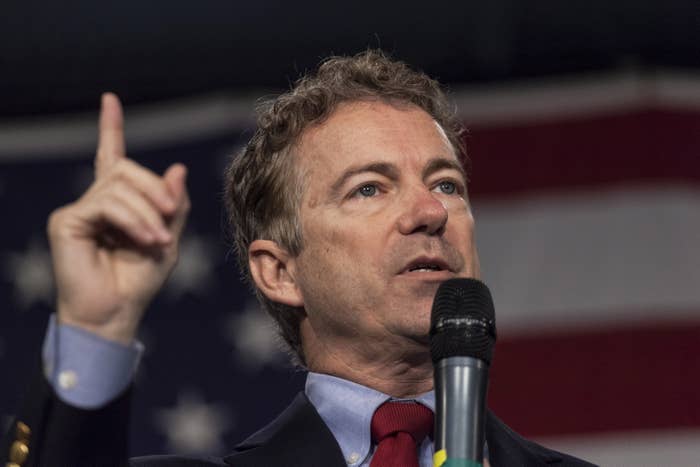 Rand Paul said on Wednesday that he will refuse to participate in a "second-tier" debate if he is relegated to the undercard stage by the Fox Business Network.
Politico reported on Tuesday that the network's criteria to make the main stage could possibly put candidates John Kasich, Carly Fiorina, and Rand Paul in the undercard.
"I won't participate in any kind of second-tier debate," the Kentucky senator said on Kilmeade and Friends. "We've got a first-tier campaign. I've got 800 precinct chairman in Iowa. I've got a 100 people on the ground working for me. I've raised 25 million dollars. I'm not gonna let any network or anybody tell me we're not a first-tier campaign. If you tell a campaign with three weeks to go that they're in the second-tier, you destroy the campaign. This isn't the job of the media to pick who wins. The voters ought to get a chance."
Paul said limiting the number of candidates lays "it up in a lap" for Donald Trump, adding that he is the only candidate who would challenge the businessman. He said the network relegating him to the second-tier debate is a designation as an unserious campaign, and attacked the use of what he called imprecise polling to determine which candidates get on the stage.
"I frankly just won't be told by the media which tier I'm in, and we're not willing to accept that, because we're a first-tier campaign and we're in it to win it and we won't be told that we're in a tier that can't win," he said.
Asked about high viewership for the undercard debate, Paul said it was about the perception of not being a competitor. "It's the kids table and at that table you're not considered to be a competitor," Paul said. "Not considered to be having a chance."
He said early on, candidates could move freely between debates, but now it was too late in the election cycle to benefit from being in the undercard debate. Paul said fundraising and organization should be taken into account in qualifying for the main-stage debate.
"Without question, we have a first-tier campaign and we just can't accept the designation of being artificially told that we don't have a chance with three weeks ago. So we won't stand for it and we will protest any such designation," he said.