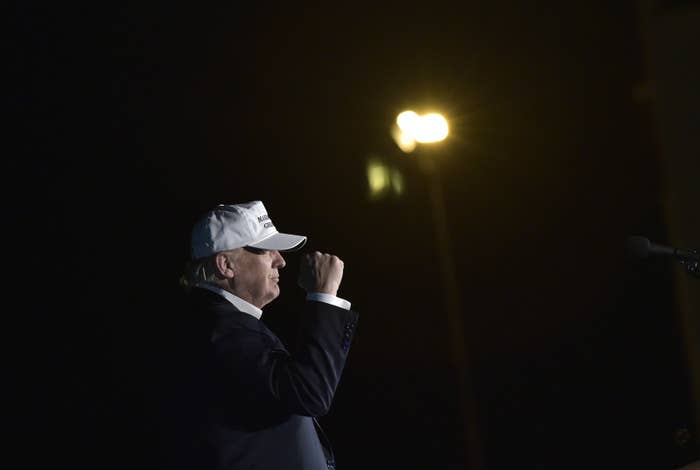 A pro-Donald Trump political action committee has stopped soliciting donations through radio advertisements as it faces a class action lawsuit and an inquiry from the Federal Election Commission.
A BuzzFeed News review of multiple closed captioning tracking tools reveals Liberty Action Group PAC — a group which has raised hundreds of thousands of dollars by running radio ads soliciting donations to help elect Trump — has not run advertisements since Sept. 9. The day before, BuzzFeed News reported the group was the subject of a class action complaint in federal court.
Liberty Action Group's FEC filings show little evidence that it has spent any of its donations to help elect Trump.
The group removed two names from its amended FEC filings, submitted on Friday. Henok Tedla has been removed as the PAC's treasurer and Rob Reyes, a former contact for the PAC, was also removed from the group's filings.
Reached by BuzzFeed News, Tedla said he was aware of the filings, and confirmed he was no longer the PAC's treasurer. "I'm just doing the monthly accounting," he said.
The director of Liberty Action Group, Josiah Cammer, did not return a request for comment.
Last week, the Cammer responded to an FEC inquiry asking why the group's filings lacked basic information about its spending and contributions. Cammer told the FEC he was unaware that he needed to list basic information about the group's donors in public filings and said the group is attempting to ask its donor base for additional information to refile to the FEC.
Another PAC with ties to Liberty Action Group—a progressive group called Progressive Priorities PAC—also sent amended filings to the FEC on Friday.
The alleged-Democratic group, which ran robocalls for Hillary Clinton and Bernie Sanders during the primary, is, according to sources, run by the same individuals as Liberty Action Group, and shared contact information and a treasurer. The listed director of that PAC, Alexa Roth, had no knowledge she was the listed director on the filings.
In the group's amended filings, Tedla was again removed as the treasurer of the PAC. Roth is now listed as treasurer as well.
Roth told BuzzFeed News she was not aware of the amended filings and said she did not electronically sign them. As FEC filings note at the bottom, "submission of false, erroneous, or incomplete information may subject the person signing this Statement to the penalties of 2 U.S.C. §437g," subjecting them to civil penalties.