Poll: What Is Ted Cruz Saying When He Gets HuckaBlocked From Standing With Kim Davis?
Read his lips.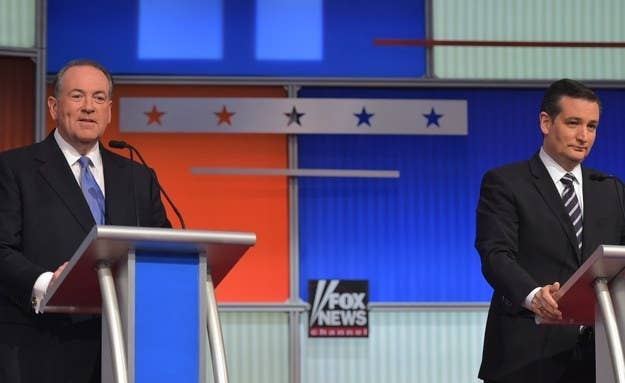 The New York Times reported on Tuesday that Texas Sen. Ted Cruz was blocked by an aide to former Arkansas Gov. Mike Huckabee from getting on stage at a rally for Rowan County Clerk Kim Davis, who was released from jail.
From the New York Times report:
When Senator Cruz exited the jail a throng of journalists beckoned him toward their microphones, but an aide to Mr. Huckabee blocked the path of Mr. Cruz, who appeared incredulous.

Moments later, Mr. Huckabee appeared, joined by Ms. Davis. He stuck close to her side as she approached the reporters, and again when she took the stage, and cast her fight as a choice of tyranny or religious freedom.
Asked about the block, the former Arkansas governor noted it was his event, not Cruz's.
"Look, I invited him in to come and meet with Kim Davis. It was our event. We were kind of surprised that he showed up, but you know once he was there we invited him to come and meet with her so I'm not sure what the controversy is," Huckabee said on Fox News on Wednesday. "The program of course was already settled and I am happy that he was able to come and show his support for her, even if it was at the last minute."
The aide appears to be Huckabee communications director Alice Stewart in a video of the event below:
Oops. Something went wrong. Please try again later
Looks like we are having a problem on the server.
What is Cruz saying when he gets HuckaBlocked?
You don't have the authority to do that.

Do you understand who I am?

Neither of those things, he said something else.
Cruz, it would be noted, had the sadz from the ordeal.