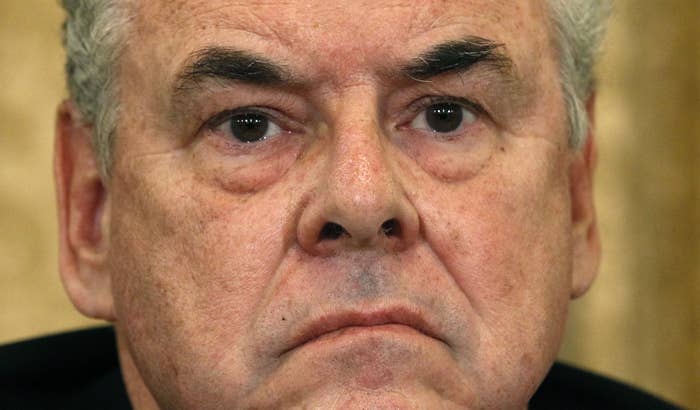 Rep. Peter King of New York said in a radio interview on Thursday that New Yorkers should not vote for Ted Cruz in the state's upcoming primary.
"Let me say something about the New York primary: Any New Yorker who even thinks of voting for Ted Cruz should have their head examined," King said on the Joe Piscopo Show on AM 970 The Answer. "Really, here's a guy who refused to sign onto the 9/11 health care act for the cops and fireman. Here's a guy who talks about New York values."
"New York keeps going forward," King continued, citing the city's response to 9/11. "We're tough, and to have some guy like Ted Cruz with cowboy boots walk around criticizing us. Look, I hope he gets the cold shoulder and other things from every New Yorker. Send him back where he belongs. He's a phony, and that was all off the record by the way. I don't want anyone listening. That was all off the record."
"I just can't stand that guy," he added.
King, who previously backed Sen. Marco Rubio, said he would "wait and see" who to support in the primary, but said he didn't "have the hostility" towards Trump as he did towards Cruz. He said the ideal race would be between Trump and John Kasich.
"Cruz is a guy I really don't like and by the way, John Kasich is a really good guy," said King. "John Kasich is good guy."
"I would love to see Trump over Cruz here in New York," added King. "To me, the best debate is between Kasich and Trump. Not between Cruz with that smooth talking, how he loves everyone and is gonna wear the armor of God as he's into battle and all that. Come on. Give me a break."