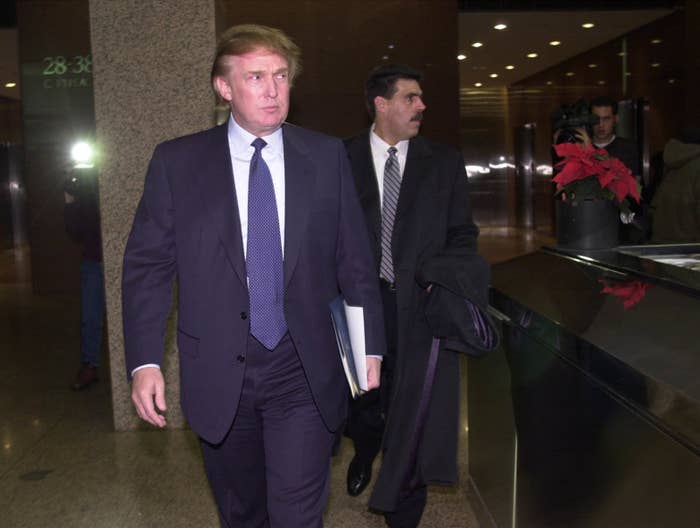 Near the end of the first presidential debate on Monday, Hillary Clinton went after Donald Trump for repeatedly mocking the weight of 1996 Miss Universe winner Alicia Machado.

"He called this woman 'Miss Piggy.' Then he called her 'Miss Housekeeping,' because she was Latina," Clinton said.
Trump responded at the debate with, "Where did you find this?" and the next morning told Fox News, "She was the winner and she gained a massive amount of weight, and it was a real problem. Not only that — her attitude. And we had a real problem with her."
In fact, Trump made a huge spectacle of Machado's weight gain after she won the competition in 1996. During a February 1997 interview with Howard Stern uncovered by BuzzFeed News, Trump laughed as Stern viciously mocked Machado for gaining weight. Trump called her "eating machine" and said "she ate a lot of everything."
Stern introduces the topic by saying, "The Miss Universe, it turns out, the woman who won last year, blows up to a fat pig. I mean, like obese."
Trump can be heard chuckling in the background as Stern recapped the events.
"You whipped this fat slob into shape," Stern continued. "I don't know how you did it. I see all these diet plans, everything else. God bless you. You whipped her into shape, and you held the whole pageant together. Congratulations."
"Well, that was an amazing one," Trump responded. "She went from 118 to almost 170."
"And you got her right down again to 118, didn't you?," asked Stern.
"Well, she's going to be there," replied Trump. "She's probably 145 or something."
Trump and Stern said Machado looked beautiful when she won. "Right," said Trump. "She gained about 55 pounds in a period of nine months. She was like an eating machine."
"What does a girl eat in less than a year to gain [55 pounds]?" Stern asked.
"I think she ate a lot of everything," answered Trump.
Trump boasted of how he turned Machado's weight loss into public scene. "It has become a major event," he said.

Trump also told Newsweek at the time, "We've tried diet, spa, a trainer, incentives. Forget it, the way she's going, she'd eat the whole gymnasium."
Trump even invited reporters to the gym to watch Machado exercise, hoping to turn Machado's attempts to lose weight into "a big event," he would say. "You really have an obligation to stay in a perfect physical state," Trump added.
Machado told the Washington Post at the time she was caught by surprise about reporters being present. "I asked him to please send me to a trainer or a nutritionist or something because I needed some orientation, and he sends me to a gym in New York," she said. "When I get there, there are 80 reporters waiting to watch me sweat. I thought that was in very bad taste."
In his book, the Art of the Comeback, Trump shot back, aggressively, at the beauty queen, calling her "plumply."
"I could just see Alicia Machado, the current Miss Universe, sitting there plumply. God, what problems I had with this woman," Trump wrote in his 1997 book. "First, she wins. Second, she gains 50 pounds. Third, I urge the committee not to fire her. Fourth, I go to the gym with her, in a show of support. Final act: She trashes me in The Washington Post — after I stood by her the entire time. What's wrong with this picture? Anyway, the best part about the evening was the knowledge that next year, she would no longer be Miss Universe."