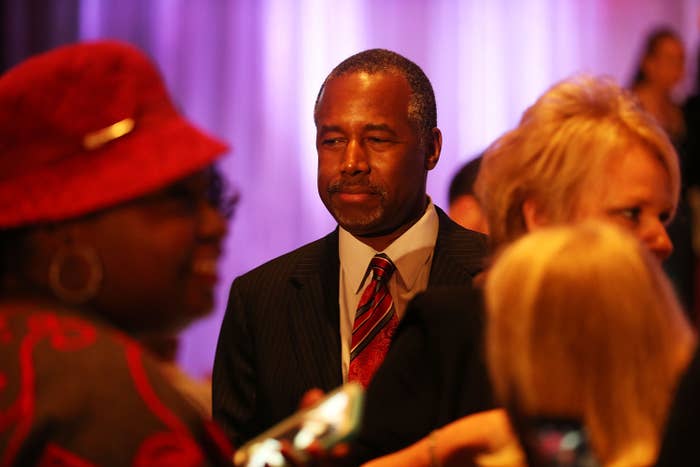 A former colleague of Ben Carson is defending the retired neurosurgeon, whose story of an attempted stabbing has come under intense media scrutiny over the past week.
Dr. Robert Prince, who worked with Carson at John Hopkins Hospital in the late 1980s, said on WBAL's Jimmy Mathis Show over the weekend that years before Carson wrote his first book, the then-practicing pediatric neurosurgeon told him of the time that he tried to stab a fellow classmate when he was 14 years old, only to have his knife break on his friend's belt buckle.
Carson would go on to tell this story in his best-selling memoir, Gifted Hands. Last week, CNN reported that several of Carson's neighbors, friends, and classmates did not recall the incident. Carson has stood by his story, one that he says turned his life around for the better.
"Well, it was, you know, long after it happened. I think it happened when he was 14 years old, but it was also quite a bit of time before a book, before a movie, and before a would be president," Prince said. "And we were in the surgical lounge and we were talking about what led us to become physicians; it's kind of a common conversation for people to have, and at that time I thought he was a resident just like me, because he looked so young and I had come into it a little older because I had done electrical engineering in the interim, and I thought he was at my level.
"You know there is a hierarchy at Hopkins, and I probably wouldn't have been having a personal conversation had I known that he was already attending and chief of pediatric neurosurgery, but of course he took the fast track, and uh, but he was a very approachable and humble guy.
"We just had a personal conversation at about 3 in the morning waiting for a patient to come down and, he told me that story, and in fact, I had never heard the story after that because I didn't read the book, I didn't watch the movie, and in fact, just now, when you played that little tape of him telling the story, that's the first time I've actually heard it aside from him almost 30 years ago, and I saw it on CNN that they were questioning the veracity of that story. And I thought, Well wait a minute, you know, why would he tell lowly me, before he could possibly have known that he would be a famous neurosurgeon if it wasn't true?"
Prince added that he couldn't remember if Carson said it was a relative or not, but he did recall the story was essentially the same.
"What I remember is the knife hitting the belt buckle," he said. "And that it was a life-changing, sort of religious experience for him, where he could have gone one way or the other, and he chose the good way. And it was a self-deprecating story' it wasn't a story to aggrandize him. People like hearing rags-to-riches story, but I don't think they like hearing criminal-to-riches stories. This isn't a story that you tell if you're running for president for example. This is just a very important moment in his life, and I recognized that."
Prince said he believed Carson's story was true.
"It was clearly a big deal for him at the time, and yeah I absolutely believe it's true, and there's really no reason for him to tell a story like that, like I said, before any of this fame came to him," he added.
"He had nothing to gain by impressing me. It was in context of the discussion that we were having. The funny thing about this guy is that this guy tells you you've got a tumor in your head and he needs to go inside and get it out you're gonna believe him, right? So the idea that people are questioning his credibility when of course if it was your child you would say, 'Oh yeah, yeah, yeah, just, you know, go into his head, it's fine.'"