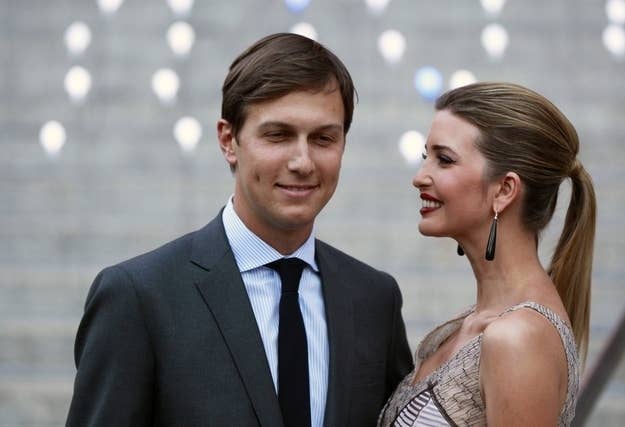 The New York Observer Tuesday, Feb. 25 published a long and negative profile of New York Attorney General Eric Schneiderman.
The piece is also an extensive and detailed defense of Donald Trump, defending him in particular against Schneiderman's allegations that he profited from a "scam university." It mentions him more than 90 times. One sub-headline in the piece: "The Case Against Donald Trump: Too Much, Too Late?"
Trump himself tweeted about an upcoming article in December that would help him "get even" in December.
"Too bad about New York Magazine, but there's a much bigger one out there, currently doing a story on me to get even, that I'll soon discuss," Trump said.
The Observer is owned and published by Jared Kushner, Trump's son-in-law. Trump is currently being sued by Schneiderman for $40 million saying Trump University, Trump's for-profit investment school, engaged in illegal business practices.
The article comes with a long, and unusual, disclaimer:
The day before this story went to press, someone from Mr. Schneiderman's press operation apparently told another publication, "Donald Trump ordered up a hit piece in his son-in-law's newspaper to retaliate against Schneiderman for bringing a lawsuit against him." Bullshit. The notion that Mr. Trump can "order" The Observer to publish or not publish a story is ludicrous. All newspapers have a publisher. Most publishers have a father-in-law. The fact that The Observer's publisher's father-in-law happens to be well known—and appears to have gotten inside the attorney general's head—had no bearing on this story or on any other story in The Observer. If the anonymous press officer who made that accusation has any evidence that this story was "ordered up" by Mr. Trump, we'd like to see it.
But the process behind the piece appears to have been unusual. Observer Editor-in-Chief Ken Kurson said the first reporter to whom it was assigned was "spooked" and quit the piece.
BuzzFeed spoke to the original reporter, a freelancer named William Gifford, who said one of the reasons he quit was because he knew the Observer wanted the piece to be a negative article.
"They wanted to go at it a certain way and I wanted to go at it objectively," Gifford told BuzzFeed. Gifford added the article was "definitely meant to be negative on Schneiderman." Gifford said, "The more I learned about him [Schneiderman] the more I liked him. ... I knew they had their angle ... I didn't feel comfortable going forward."
Gifford also described the New York Observer disclaimer as "accurate," adding he didn't see the article going anywhere and "kind of just gave up."
The final author of the profile, Michael Craig, told BuzzFeed that Kurson himself did a fair amount of the reporting on the article.
Kurson was "involved in the story before I was assigned it," Craig said.
Kurson is a former magazine writer and Republican political consultant described by New York Magazine as an "old family friend" of the Kushners, a powerful New Jersey real estate family.
Craig told BuzzFeed he dealt with Kurson, not Kushner, when writing the article and cited the article's disclaimer.
Craig added he worked on the article himself and was "not discouraged or encouraged" to write anything about Schneiderman.
Asked if he was concerned the profile could be seen as part of vendetta by Trump, Craig said, "I obviously don't see it that way."
The piece itself is a broad political and policy indictment of Schneiderman. Its thesis:
A pattern of political opportunism in which enemies pay while friends skate, a questionable nine-figure slush fund and an inability to play nicely in his own party's sandbox have begun to make influential New Yorkers wonder if the attorney general has hit his political ceiling. In numerous cases, Mr. Schneiderman has shown vindictiveness toward political foes and been uncharacteristically lenient or ignorant of activities of political friends.
Trump's organization also involved denied involvement in the article. Michael Cohen, an executive vice president at the Trump Organization and special counsel to Donald Trump, instead attacked Attorney General Schneiderman in an emailed statement when asked if Trump was involved.
"Most of Mr. Schneiderman's lawsuit has already been dismissed and, had they not changed their case in court during oral argument, the whole case would have been thrown out. The students that took the courses gave a 98% approval rating. Mr. Schneiderman should have better things to do with taxpayer money."
When BuzzFeed called Mr. Cohen to ask again if Trump was involved in the story, Cohen said, "You have my comment. You have my comment." He then hung up.
This story has been updated with comments from the original reporter on the New York Observer story.