Obama's First Political Vacation
It was the first time Obama learned the political costs of taking a vacation. Now, attacks on his golfing are routine.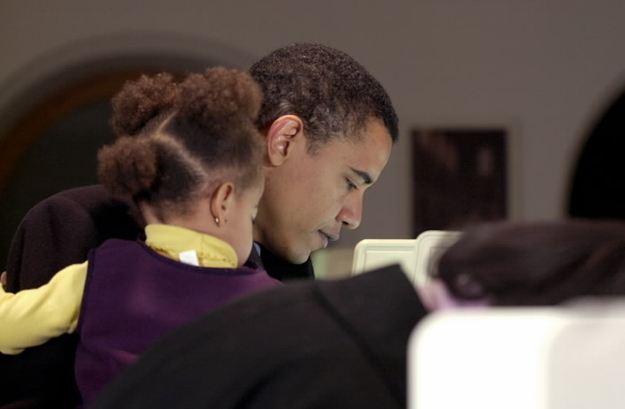 It was Barack Obama's first real introduction into the ruthless nature of Chicago-style politics. In a race what would be the first major disappointment of Barack Obama's young political career, one glaring political blunder helped define his campaign.
The 38-year-old State Senator was relatively unknown in Chicago's 1st Congressional district, where he was campaigning against incumbent Bobby Rush, a local icon. The State Senator and law school lecturer had little to run on beside his brief record in the Illinois State Senate, and opponents found an example to hit the rookie on his record.
The Illinois State Supreme Court struck down the Safe Neighborhood Act passed in 1994 in 1999. The act had many features; including making the unlawful use of firearms a felony, a provision that was supported by Chicago Mayor Richard Daley, Illinois Governor George Ryan, and Barack Obama himself. Lawmakers credited the law with reducing crime and were attempting to reenact the law in December of 1999. But when the roll call began for the vote Obama was nowhere to be found.
"Shocked" said Illinois State Senator Donne Troter, who like Obama was challenging Bobby Rush for his seat in the House of Representatives.
"For anyone not to show up, to me is dereliction at the worst and certainty irresponsible" he said.
Obama was, in fact, on vacation in Hawaii visiting his 80-year-old grandmother, who lived alone because Obama's mother and grandfather had passed away. Obama he has been prepared to fly back for the vote, but his 18-month-old daughter became sick.
"I've been a stronger supporter of the bill and intended to be back in time for the vote at this week's special session," Obama said. "I considered flying out Tuesday, but at that point my 18-month-old had a bad cold and I determined it was too difficult to make a nine hour flight. I was sorry not to be able to attend the vote, but my family and my daughter came first."
Bobby Rush saw the opportunity to attack the young lawmaker.
"While perhaps the most important piece of legislation that could have a significant impact on getting guns off the streets is pending in Illinois, other public officials are on a beach in Hawaii," Rush said through his spokesperson.
The bill had come up five votes short of becoming law, but Obama's opponents claimed it was much closer. Trotter said he knew two Senators who claimed their voting machines had malfunctioned.
"I was really under the impression that the bill was going to pass," he said.
A spokesman for the Illinois Governor, who was disappointed the bill had failed, said he "understood why Sen. Obama had decided to stay with his family."
Obama's excuse may have satisfied the Governor, but his opponents decided to make it a point of contrast, however unfair it might have been. When Obama criticized Rush for his own poor voting record — missing more votes than any other incumbent Congressman in an eight year period – Rush fired back at Obama.
"Mr. Obama is only trying to cover up his own dismal record that was highlighted for the world when he missed a critical vote on the Safe Neighborhood Act, preferring to lay on the beach in Hawaii," Rush said in a statement.
Local media reaction was mixed. Obama's local paper the Hyde Park Herald called the issue "nonsense." Saying while Obama was caring for sick child "opponents accused him of dereliction of duty and sipping Mai-Tais on Waikiki."
A local gossip column defended Obama's absence calling the issue "D-U-M."
Obama was eventually forced to respond in an op-ed entitled "Family duties took precedence" calling the media reports on the issue "misleading."
"During an extremely short trip to visit my grandmother, my 18-month old daughter Malia came down with the flu. By Tuesday, my daughter was feeling worse. I discussed the situation with my wife, and we determined it was not advisable to take an eight-hour, red-eye flight back to Chicago with a sick bay," Obama wrote.
"I take my responsibilities as a parent very seriously. We hear a lot of talk from politicians about the importance of family values. Hopefully, you will understand when your state senator tries to live up to those values as best you can."
The bill was eventually signed into law in April, but not before Obama lost the Democratic primary to Rush 61%-30%. Obama described the loss years later as a "spanking."