Obama Promised In 2007 To Fire Anybody Who Did Oppo On His Opponents' Personal Lives
A stark contrast with the negative tone of his 2008 campaign.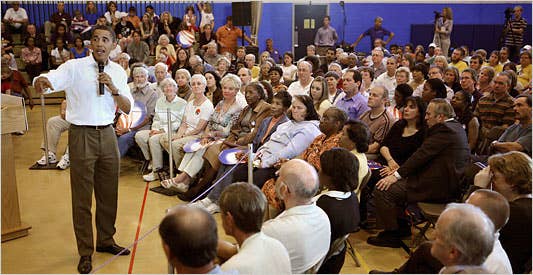 President Obama's reelection campaign has taken criticism for the negative tone of 2012 campaign. One of President Obama's deputy campaign managers, Stephanie Cutter, suggested that his Republican rival Mitt Romney might be a felon. And while some of the attacks seem to be a dig into the candidate's personal lives — such as a DNC ad featuring Mrs. Romney's horse — in 2008 then Senator Obama promised to fire anybody on his staff who did such negative attacks.
"I have been very clear to my campaign. I do not want to see research that is involved in trying to tear people down personally," then Senator Obama said at a press conference in Waterloo, Iowa in December 2007. "If I find out that somebody is doing that, they will be fired. And I have been absolutely crystal clear about this, and I have been clear about this for a very long time."
"That's not what I believe in, that's not who I am," Obama continued about oppo research into a candidate's personal life."It's contrary to the kind of message of change that I've been talking about on this campaign."