President Obama Speaks on The Phone With The Iranian President In Historic Call
The phone call represents the first direct contact between U.S. and Iranian presidents since 1979.
President Barack Obama said Thursday that he spoke on the phone with Iranian President Hassan Rouhani, marking the first direct contact between a U.S. and Iranian president since 1979.
"Before I discuss the situation in Congress, let me say a few things about two important opportunities in our foreign policy," President Obama said. "Just now I spoke on the phone with President Rouhani of the Islamic Republic of Iran. The two of us discussed our ongoing efforts to reach an agreement over Iran's nuclear program. I reiterated to President Rouhani what I said in New York. While there will surely be important obstacles to moving forward and success is by no means guaranteed, I believe we can reach a comprehensive solution."
Before Obama announced he had spoken on the phone with the leader, Rouhani tweeted from his official Twitter account: "In a phone conversation b/w #Iranian & #US Presidents just now: @HassanRouhani: "Have a Nice Day!" @BarackObama: "Thank you. Khodahafez."
At the United Nations earlier this week, there was speculation of a possible meeting or handshake between the two leaders. Instead, Secretary of State John Kerry met with the Iranian foreign minister on Thursday. Obama said he continued to tell Secretary Kerry to pursue diplomatic options with the Iranian government as they move toward a deal on Iran's nuclear program.
"I've directed Secretary Kerry to continue pursuing this diplomatic effort with the Iranian government," Obama continued. "We had constructed discussions yesterday in New York with our partners, the European Union, United Kingdom, France, Germany, Russia, and China, together with the Iranian foreign minister. Going forward, President Rouhani and I have directed our teams to continue working expeditiously in cooperation with the P5+1 to pursue an agreement. Throughout this process we will stay in close touch with our friends and allies in the region, including Israel."
Obama said the United States would be "mindful" of challenges in any path to a diplomatic solution over Iran's nuclear program.
"Now, we are mindful of all the challenges ahead. The very fact that this was the first communication between an American and Iranian president since 1979 underscores the deep mistrust between our countries, but it also indicates the prospect of moving beyond that difficult history," Obama said. "I do believe that there is a basis for a resolution. Iran's Supreme Leader has issued a fatwa against the development of nuclear weapons. President Rouhani had indicated that Iran will never develop nuclear weapons. I have made clear that we respect the right of the Iranian people to access peaceful nuclear energy in the context of Iran meeting its obligations. So the test will be meaningful, transparent, and are variable actions, which can also bring relief from the comprehensive of international sanctions that are currently in place."
The president concluded saying a solution over Iranian's nuclear program could bring about a new relationship between the United States and Iran.
"Resolving this issue obviously could also serve as a major step forward in a new relationship between the United States and the Islamic Republic of Iran. One based on mutual interests and mutual respect. It would also help facilitate a better relationship between Iran and the international community as well as others in the region, one that would help the Iranian people fulfill their extraordinary potential but also help us address other concerns that could bring greater peace and stability to the Middle East."
The announcement of the phone call had some hiccups. First, Rouhani tweeted this.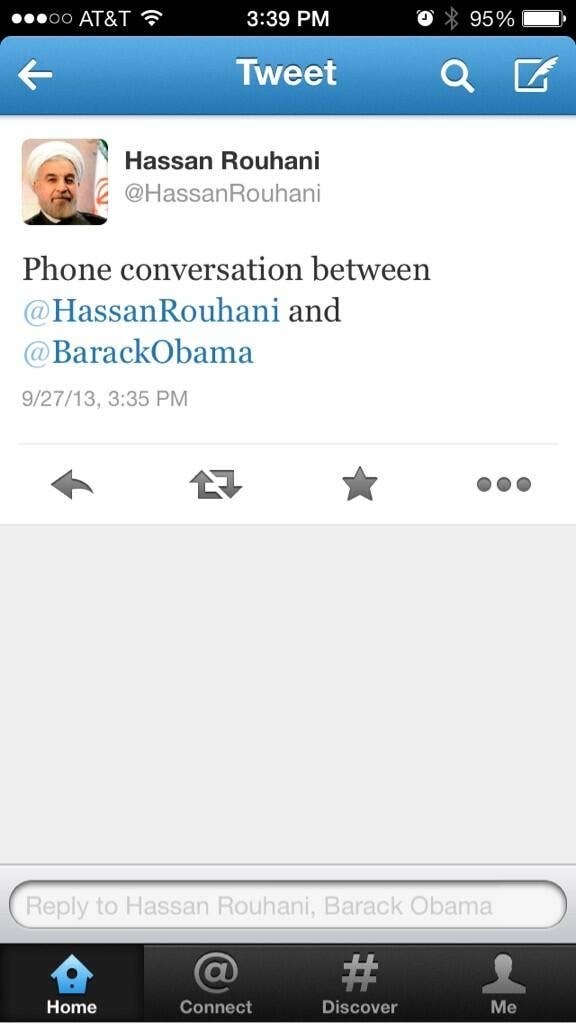 Then he deleted it and tweeted this:
Iran's official news agency reported the news quickly: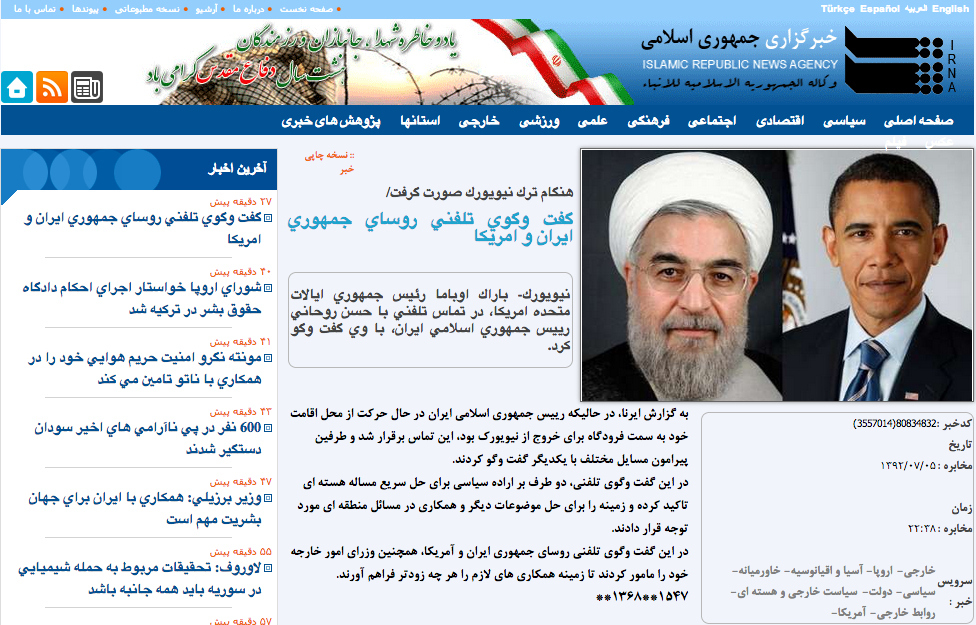 The White House photo of the phone call.