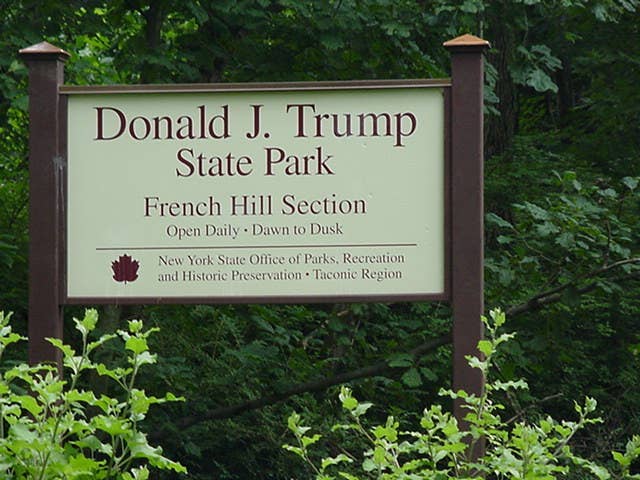 A New York state senator said Monday that he will introduce legislation to strip Donald J. Trump State Park of its name, saying that Trump's recent rhetoric doesn't line up with the values of New York state.
Daniel Squadron, who represents the 26th district, which includes lower Manhattan and parts of Brooklyn, made the announcement Monday in a comment to BuzzFeed News.
"Bigotry has no place in presidential politics and certainly shouldn't be honored with a state park naming," Squadrom said.
The state senator also wrote to Gov. Andrew Cuomo, asking him to begin the process of renaming the park.
Trump's "discriminatory proposals are unbefitting of a campaign for our counry's highest office," he wrote. "Mr. Trump has shown that he is unworthy of having a New York State Park named in his honor."
The park, an undeveloped stretch of 436 acres of land in Putnam and Westchester Counties, was donated by Trump to New York state in 2006 after plans to build a golf course fell through because of "strict environmental restrictions and permitting requirements," according to a New York Times report. Trump ultimately got a tax credit for the donation.
After the park was closed in 2010 due to budget cuts, Trump asked for the land returned and suggested he would pursue litigation to see it through.
Squardon said renaming the park would be an important step in showing the values represented by New York State.
"This is an important moment for the state to send a message that everything
Donald Trump is representing right now is counter to the values of the state satiate, and we have an easy way to do that," he said.
He declined to suggest a replacement name.
A spokeswoman for Cuomo didn't respond to an inquiry about the park.
Squadron's letter to Governor Cuomo