Bob Bergdahl is the father of former American prisoner of war Bowe Bergdahl. Here he is with President Obama after his son was exchanged for five Taliban captives.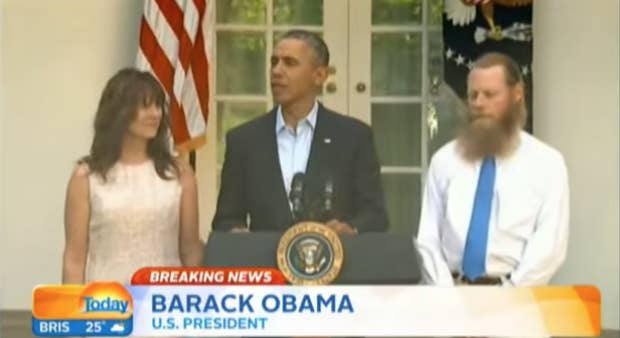 Bob Bergdahl grew his beard after his son was captured by the Taliban. The Washington Post says Bergdahl grew the beard to "win any small measure of sympathy from his son's captors." He also learned Pashtu.
Last night, Bill O'Reilly said Bob Bergdahl "looks like a Muslim."
"But it is Robert Bergdahl, the father, who is also engendering some controversy. He has learned to speak Pashto, the language of the Taliban, and looks like a Muslim. He is also somewhat sympathetic to Islam, actually thanking Allah right in front of the president."
This morning Fox and Friends host Brian Kilmeade said Bob Bergdahl looks "like a member of the Taliban."
"I mean, he says he was growing his beard because his son was in captivity. Well, your son's out now. So if you really don't want to no longer look like a member of the Taliban, you don't have to look like a member of the Taliban, are you out of razors?"