MSNBC And NBC Hosts In Open Revolt Over Clinton Miniseries
"What Chuck Todd showed everybody is he's like, 'Yeah, we hate them."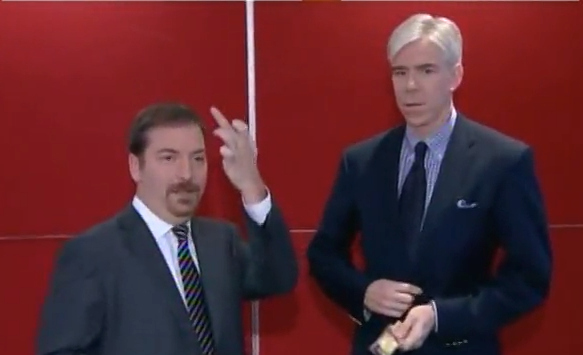 MSNBC hosts, NBC correspondents, and MSNBC contributors are in open revolt over a planned NBC Entertainment miniseries on potential 2016 presidential candidate and former Secretary of State Hillary Clinton. The response has echoed calls from Republicans that the miniseries makes the channel look too cozy with the 2016 frontrunner.
"This is why this miniseries is a total nightmare for NBC News, because … we know there's this giant firewall, we know we have nothing to do with it, we know that we'd love probably to be as critical or whatever it is going to be if it comes out," NBC News White House correspondent and host of MSNBC's Daily Rundown Chuck Todd said Thursday on Morning Joe.
Todd added that it would only be a negative for the news network.
"But there's nothing we can do about it. And we're going to only own the negative, whether it's negative because the Clinton people are upset that it's too tough on them or negative because the Republicans think it's this glorification of her," he said. "No matter what, only we are going to own it because people are going to see the peacock and they see NBC and they see NBC News and they think, 'Well, they can't be that separate.'"
Andrea Mitchell, NBC's foreign correspondent and host of Andrea Mitchell Reports on MSNBC, said as well on her show Thursday that RNC Chairman Reince Priebus, who has threatened to not allow NBC to host debates if it goes forward with the Clinton miniseries, was "understandably miffed."
"A lot of newspeople would say, including NBC News people, including Chuck Todd and all the rest of us, a really bad idea given the timing," Mitchell added, questioning MSNBC contributor and former White House Press Secretary Robert Gibbs about the RNC's reasoning behind their ploy to stop the miniseries.
Gibbs added that he as well thought the miniseries was "a bad idea."
"What Chuck Todd showed everybody is he's like, 'Yeah, we hate them," MSNBC host Joe Scarborough said on Morning Joe of NBC Entertainment while interviewing RNC chairman Reince Priebus. "Like, obviously you do understand that somebody like Brian Williams is pulling his hair out, going, I mean, I haven't talked to Brian, but I can tell you the entire news division has got to be pulling their hair out going, 'We're doing what?' You do understand there is that split there?"
"I totally agree with the chairman," Scarborough added, talking with MSNBC contributor Nicole Wallace. "I would be doing the same thing."