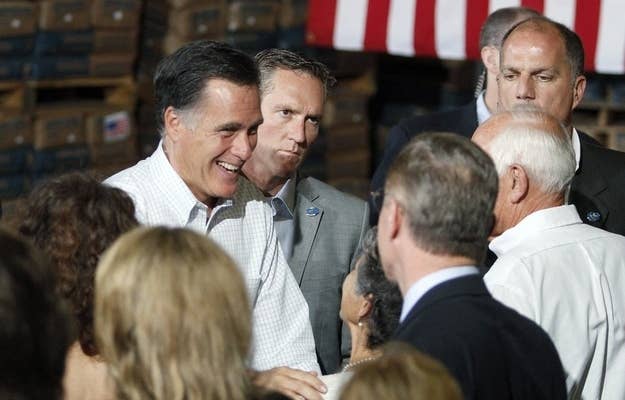 By all accounts Mitt Romney's 1994 trip to the nation's largest homeless shelter was accurately described by the Boston Globe as "not one of the brighter moments of his campaign for US senator." Romney was visiting the homeless shelter, located in Boston, by invitation of the shelter's executive director Ken Smith.
"I invited both Kennedy and Romney to the shelter and since both were based out of Boston, it got onto both of their busy schedules to come and take a tour of our facility and have a talk with the hundreds of homeless veterans who lived at the shelter," Smith wrote in January.
Smith reported that Kennedy's visit to the shelter had gone routinely saying that his visit was brief and that he seemed generally impressed with the good work they had done with an old VA hospital.
"He congratulated us on our programs and promised if he was elected to the senate for another term, he would befriend the shelter and that's exactly what he did," Smith wrote.
The shelter was similar to a "boot camp" for homeless veterans and Smith explained to Romney that homeless vets were expected to "get tough or get out," during his visit after Kennedy's.
It was at the end of Romney's visit that his notorious gaffe occurred. Romney was preparing to leave the shelter, so he pulled Smith aside, in front of the media, to ask him his biggest problem at the shelter.
Smith replied "milk."
Smith explained that the State of Massachusetts allocated $2.37 per day twice a day for each homeless veteran's meal. Since the amount was so meager, the shelter had trouble providing each veteran with a carton of milk at each meal.
Romney responded "well Ken, maybe you can teach the vets to milk cows." Romney then walked out the door.
Smith's was befuddled. A local reporter, equally stunned, came over to Smith to ask if he heard what he had thought.
The press went wild with the comment. Smith received an angry call from the Romney campaign saying Romney obviously didn't think the veterans should be milking cows. The next day Romney personally called to apologize and mention how impressed he was with the concept of the shelter.
The Boston Globe also reported on some good fallout from the gaffe.
Since reports of Romney's gaffe circulated, the shelter has received donations from two local dairies. Cumberland Farms provided a Veterans Day breakfast and will donate 2,000 pints for the week between Christmas and New Year's. And Hood has just promised 50 cases of pint cartons.
A week later Smith received a call from his shelter's milk supplier. An anonymous donor had agreed to pay half the shelter's milk costs, for the next several years.
Years later, Smith found out that Mitt Romney was the anonymous donor, paying the costs out of his own pocket
Romney didn't send out a press release during his campaign. He didn't boast about his donation, and he hasn't mentioned it since. In an election where his Romney's opponents have painted him as cold and heartless, the donation shows Romney at his most compassionate.