Mitt Romney And Jonathan Gruber, A Love Story That Will Haunt Him In 2016
Videos, op-eds, and press releases show a close connection between Romney and Gruber.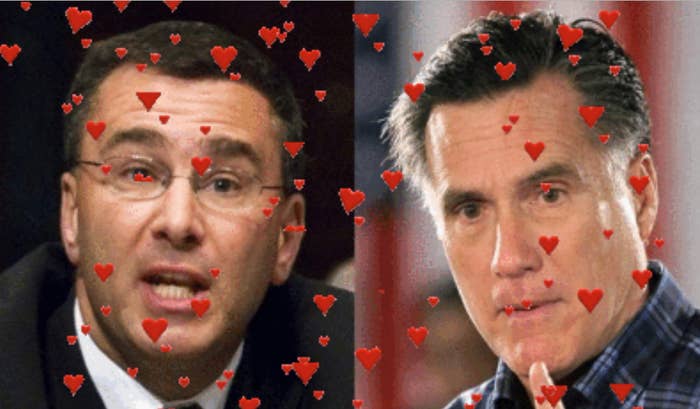 As Mitt Romney mulls a third run for president, one person is sure to make his way into attack ads against the former Massachusetts governor: Obamacare adviser Jonathan Gruber.
Gruber, a professor of economics at the Massachusetts Institute of Technology, played an important role in crafting the Massachusetts health care law signed by Romney. He would go on to help develop the Affordable Care Act.
Gruber was widely criticized last year after videos of him were uncovered saying that Obamacare's passage depended on "the stupidity of the American voter."
Videos, op-eds, and press releases show a close connection between Romney and Gruber.
To determine if the $1 billion would be enough, Jonathan Gruber of MIT built an econometric model of the population, and with input from insurers, my in-house team crunched the numbers. Again, the result surprised us: We needed far less than the $1 billion for the subsidies. One reason is that this population is healthier than we had imagined. Instead of single parents, most were young single males, educated and in good health. And again, because health insurance will now be affordable and subsidized, we insist that everyone purchase health insurance from one of our private insurance companies.
The three members to be appointed by the Governor to serve on the Connector's board are actuary Bruce Butler, health economist Jonathan Gruber and Rick Lord, CEO of Associated Industries of Massachusetts (AIM), who will represent the interests of small business.
Gruber was quoted in a 2007 Reuters article on the similarities between Hillary Clinton's plan and RomneyCare:
"Hillary's plan is just like the Massachusetts plan. There's not a whole lot of difference," said Gruber.
Here's a video of Romney citing Gruber — "a professor at MIT" — during a stump speech in 2007. Romney has repeated this line in other speeches. This video was on Romney's 2008 presidential campaign YouTube.
"I pulled together a team of people, not just government folks. I got a head of consulting firm in Boston. A old venture capitalist partner of mine. A principal from Morgan Stanley, the investment company. I got some actuaries. A professor at MIT. We came together and looked at health care."
Here's Romney repeating the line again: "And so I gathered a group of people together. Not just bureaucrats but the head of a consulting firm, a professor at MIT..."
Romney also used the same line in an interview with conservative talk show host Hugh Hewitt for his book and during a 2007 presidential debate.
"We didn't just have a bunch of bureaucrats," Romney said at the 2007 Fox News debate in Orlando. "We had a professor from MIT, an investment banker, a head of a consulting firm. We all worked on it, came up with an idea, and then we met with Democrats and said: Can we find common ground here?"
Here's Romney speaking at the Heritage Foundation in 2006 on RomneyCare citing Gruber: "We had some folks at MIT come in and build a model and look at it."
And a 2007 meeting with the Des Moines Register editorial board, Romney says, "Why don't we subsidize the purchase of insurance. And that actually, according to professor Gruber at MIT who built the economic model of this..."
And here is Gruber talking about helping Romney craft RomneyCare in an Obama 2012 ad.
Romney's appearance in the attack ad comes from a now-widely circulated video of Romney citing Gruber at the signing of RomneyCare in 2006 for helping with the bill.
And in his 2011 comic book on health care reform, Gruber writes that Romney brought him in to work on health care reform: