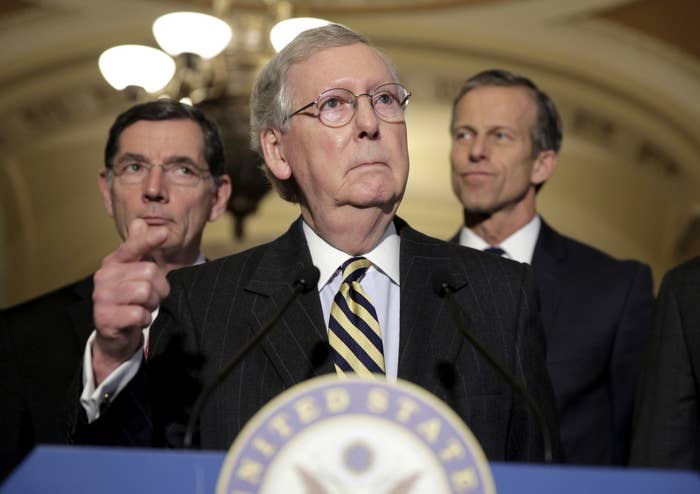 Senate Majority Leader Mitch McConnell blasted the Senate Conservatives Fund (SCF) this week, saying they had an "outstanding" record of defeat in elections.
McConnell compared running with the SCF, a group that often backs grassroots Republicans in primary races, to buying a ticket on the Titanic.
"The Senate Conservatives Fund has been endorsing people who, if they win in the primary, can't win the general," McConnell said on KNUS radio. "We lost three seats in 2010. One there in Denver, with candidates who were unable to appeal to a broader audience in November. We lost two in 2012, in Indiana and Missouri, with candidates who were unable to appeal to the larger audience. And so, in 2014, we took a different strategy and competed with the Senate Conservatives Fund everywhere they backed a candidate, and defeated them in every primary in 2014. And that's why we have a new majority."
"It reminds everybody, that the only way you can make policy is actually win the elections," he continued. "So the nominating process, in order to work for us, needs to produce nominees who can actually win in November. Otherwise you've wasted your time."
Citing the defeat of Marlin Stutzman, McConnell said the organization's record was of defeat.
"In Indiana, about a month ago there was a primary between a Senate Conservatives Fund nominee and Congressman Todd Young, the other candidate," he said. "And the candidate of the Senate Conservatives Fund tried to make me an issue in the Indiana Senate primary. He lost by 34 points. I think any candidate who signs up with the Senate Conservatives Fund has to wonder whether that's a smart strategy."
"They have an outstanding record of defeat. You've got to wonder whether any candidate who is running a smart campaign would want to sign up with those guys. It's sort of like a ticket on the Titanic."