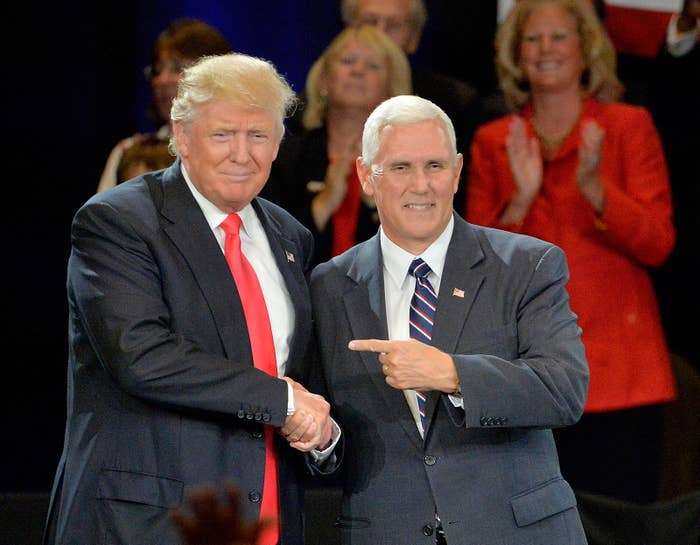 Donald Trump's running mate Mike Pence questioned on Monday if an Iranian scientist recently executed was killed because he was discussed on Hillary Clinton's private email server.

Clinton advisers discussed the scientist, email records show, in July 2010. But, as the Washington Post noted, Clinton also publicly commented on the case of Shahram Amiri at the time, and New York Times reported then that he was a CIA informant. Clinton's emails were publicly released in 2015 through FOIA, and while FBI officials have said it's possible that Clinton's server was hacked, they did not find evidence that it was.

"We've got to get to the bottom" of it, Pence said on the Sean Hannity Show on Monday. "We've got to find out whether Mr. Amiri, who was executed this last weekend ... it became public because of the revelations in Hillary Clinton's email. I know that's been alleged, there's been news reports to that effect, Sen. Cotton has raised some of those issues."
Trump on Monday tweeted, "Many people are saying that the Iranians killed the scientist who helped the U.S. because of Hillary Clinton's hacked emails." Pence's comments were made on the radio show before Trump.
"I think it's absolutely essential that we get to the bottom of this," continued Pence. "It is heartbreaking to think that someone who would have cooperated, as reports indicated, with the United States and with our interests to the security of our nation may have lost their life because of the recklessness and carelessness of Hillary Clinton using a private server. We don't know if that's the case, it's being reported, but we absolutely have to get to the bottom of it. The American people have a right to know."