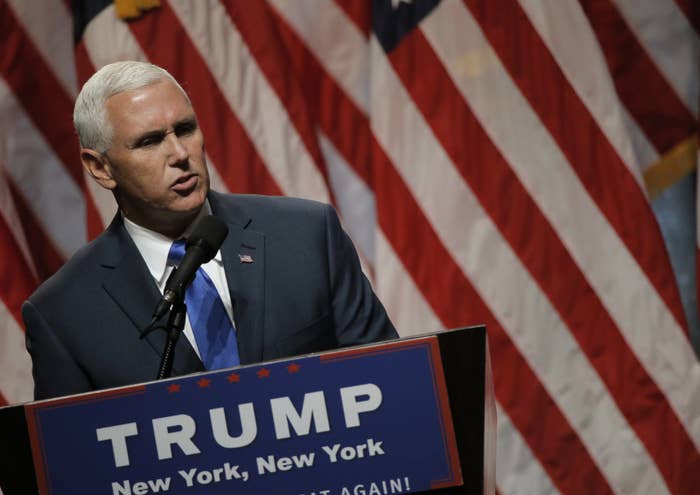 During a 2000 congressional race debate, Mike Pence defended an op-ed he wrote arguing that "smoking doesn't kill." Pence said there was no direct "scientific causal link medically identifying" a connection between smoking and lung cancer, according to a local newspaper report uncovered by BuzzFeed News.

Pence, then a local radio and television in Indiana, was running for Congress against opponent Bob Rock, who quizzed Pence over his op-ed according to a local news write up of the debate.
"In his turn, Rock quizzed Pence about an article Pence wrote saying there is no proof cigarettes cause cancer," Franklin, Indiana's Daily Journal wrote. "Pence said the article was taken out of context and that while there is no direct 'scientific causal link medically identifying' a link between smoking and lung cancer that was not the point of writing it."
"The trust of that article, Bob, was that we do not need a government large enough in Washington D.C. that can protect me from myself," Pence said at the debate.
Another local paper, The Republic, noted at the time Pence was asked in the debate about the op-ed but did not cover his response. The website Think Progress on Friday also found coverage of the debate in the Indianapolis Star which also stated Pence argued there was no link between smoking and cancer.

In a 2000 article, "The Great American Smoke out" uncovered by BuzzFeed News Pence wrote "time for a quick reality check. Despite the hysteria from the political class and the media, smoking doesn't kill."
On Monday, BuzzFeed News reported Pence wrote an op-ed in 1997 equating the health risks associated with cigarettes with those associated with candy. Pence was defending the tobacco industry, which had been successfully sued by some states to recoup medical expenses related to tobacco.

Here's a look at the tidbit: