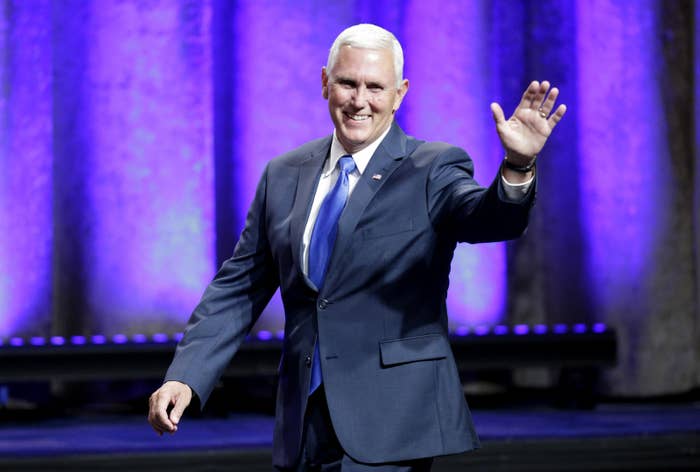 As executive director of a conservative think tank in Indiana, Mike Pence wrote an editorial sharply criticizing then-President George H.W. Bush for signing the 1991 Civil Rights Act

The act was supported by 93% of the Senate and 88% of the House of Representatives. Only 33 Republicans voted against the bill. The bill was passed in response to a handful of cases in the Supreme Court that made it harder for women and minorities to win discrimination cases against employers.

While the bill passed through Congress with overwhelmingly bipartisan support, it was opposed strongly by many in the conservative movement, including commentators like Pat Buchanan who argued it would create "reverse discrimination." Bush had previously vetoed a more comprehensive version of the bill in 1990, saying he feared it would establish quotas.
Pence's 1992 op-ed in a local Indiana paper, uncovered by BuzzFeed News, is an early example of the activism that would make Pence a favorite among many in the conservative movement. Donald Trump's decision to pick Pence as his running mate was made in part to appeal to conservatives who had been hesitant to back him.
His op-ed focused on calls to remove Vice President Dan Quayle from Bush's ticket. Pence was strongly opposed to such efforts saying, unlike Bush, the vice president was in touch with the base of the party.
"Whether it was Bush's cynical reversal of the 'no new taxes' pledge or his vacillation on the 1992 (sic) Civil Rights (quota) Act, he has managed to alienate a sizable portion of the Reagan Republican coalition," wrote Pence, then working at the Indiana Policy Review. "Somehow, miraculously, Dan Quayle has managed to keep his distance from these objectionable acts and has, more than any other politician in America, engendered real credibility as a spokesman for the strong-defense, free-market, and tradition-driven platform of that coalition."
Editorials placed by Indiana Policy Review in a number of local newspapers also blasted the bill after it was passed.
Here's Pence's below: