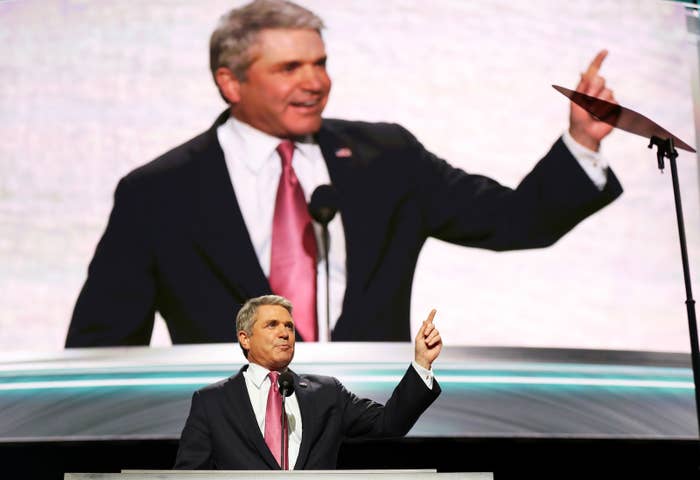 Rep. Mike McCaul of Texas, who has been widely discussed as a potential challenger to Texas Sen. Ted Cruz in 2018, said Cruz "broke his word" when he declined to back Republican nominee Donald Trump at the party's national convention in July.
"There's been a lot of talk and buzz about that," McCaul said on the Laura Ingraham Show on Tuesday when asked about the 2018 primary. "I think what he did at the convention turned off a lot of people. He pledged to support him. He broke his word. What he said in terms of not supporting the nominee. There's some discontent.
"What I'm looking at, to be honest with you, is getting Trump elected to the White House and keeping Hillary out of there. I'm working with Giuliani on this very closely on the national security team because I'm putting the country first above myself. That's what's important right now to me."

Earlier in the interview, McCaul said it was imperative all Republicans backed Trump.
"I'm not one of these Republicans that's sitting on the sidelines throwing barbs and criticizing the nominee," he said. "I think it's imperative that we all unify behind him. The idea that these Republicans will sit on the sidelines and allow Hillary Clinton to become the next president of the United States is unconscionable to me. I think a high price will be paid for those Republicans who did that and were complicit with her becoming the commander-in-chief."
The Texas congressman added that Republicans bucking Trump were just attention seekers.
"They just want attention," he said. "I just think they want attention. He may not have been the first choice for some people, but he's our nominee. He's good on business, he's good on regulations, he's pro-military. The Supreme Court is at stake, and yet you've got people like John Kasich, who's trying to skew Ohio, and others [to get] attention. It's not good for the country at the end of the day. We saw what happened at the convention when [Ted Cruz said] 'vote your conscience.' I actually get very angry about this because, to me, the choice is clear. I'm going to do everything I can to try to unify this party and prevent her from being in the White House."