Mike Huckabee: "War On Cops" Is Causing Surge In Crime
Huckabee blames "anti-cop riots" in Baltimore and vilification of the police for upticks in crime.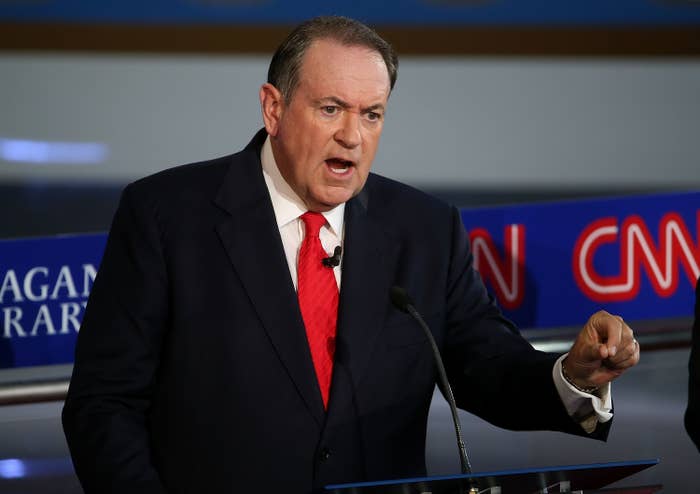 Republican presidential candidate and former Arkansas Gov. Mike Huckabee says a "war on cops" and "anti-cop riots" have led to a surge in crime across the country.
"Newton's third law of physics says that for action, there is an equal and opposite reaction," Huckabee said on his daily podcast, The Huckabee Exclusive. "So is anyone surprised that the recent war on cops that's led to vilifying police, politicians tying cops hands, or police being told to stay out of certain areas has led to a completely predictable reaction, a surge in crime?"
Huckabee linked protests against cops to rising crime.
"Crime had been dropping since the 80s, but Breitbart reports that Chicago just had it's deadliest month in 13 years, with shootings up 50 percent over last year," Huckabee continued. "Since the April anti-police riots in Baltimore, homicides there are up 39 percent. In St. Louis the murder rate is up 60 percent last year. Breitbart notes, the situation has been made worse for the Obama Administration's failure to enforce immigration laws, which has led to the release of 347,000 criminal convicted aliens."
Huckabee said protestors were getting what they wanted: easing of prison sentences for non-violent drug crimes.
"But this should help ease everyone's minds: Protestors are finally getting what they want," Huckabee said. "In response to the protests that too many people were sent to prison for too long, the Justice Department announced that starting at the end of the month, they will start releasing 6,000 federal prison inmates. The ACLU celebrated that it was a great victory for justice because many of the inmates were given harsh sentences for non-violent drug crimes like selling crack cocaine."
Huckabee questioned the claim that such sentences were racist.
"That's now depicted as racist sentencing that targeted African Americans, even though the sentences were originally made harsher because African American leaders complained that crack dealers were destroying their neighborhoods," Huckabee said.
Huckabee also linked the tough on crime sentencing to the 1994 crime bill signed by President Bill Clinton. While the 1994 crime bill included some penalty enhancers, many tough drug laws had already been in place for years before the signing of that bill.
"The 'tough on drug' crime policy started under Bill Clinton, with Hillary's full support," said the former Arkansas governor. "She now says they went too far and she backs lighter sentences and early prison releases. She also supports putting camera's on every cop, so their actions are all recorded. After all, in the name of transparency, the public has a right to see records of all actions taken by public servants to make sure they are obeying the law. Seriously? Lets just hope the cops don't erase half the videos before they turn them over."