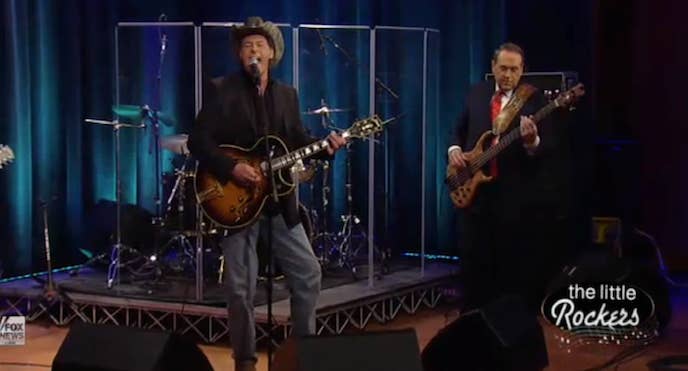 Potential Republican presidential candidate Mike Huckabee recently criticized the Obama's parenting skills in a recent interview, objecting to what he sees as their acceptance of some of Beyonce's more suggestive lyrics and choreography.
"I don't understand how on one hand they can be such doting parents and so careful about the intake of everything — how much broccoli they eat and where they go to school and making sure they're kind of sheltered and shielded from so many things — and yet they don't see anything that might not be suitable for either a preteen or a teen in some of the lyrical content and choreography of Beyonce," Huckabee told People magazine in an interview promoting his new book God, Guns, Grits, and Gravy.
But the former Arkansas Governor has performed a sexually charged song on his Fox News show. Huckabee played the bass for singer Ted Nugent on the song Cat Scratch Fever.
Here are some of the lyrics to the song:
Well, I make the pussy purr with the stroke of my handThey know they gettin' it from meThey know just where to go when they need their lovin' manThey know I'm doin' it for free
Here are the full lyrics:
Here's the lyrics via AZlyrics.com:
Well, I don't know where they come from but they sure do come
I hope they comin' for me
And I don't know how they do it but they sure do it good
I hope they're doin' it for free

They give me cat scratch fever
Cat scratch fever

Well, the first time that I got it I was just ten years old
I got it from some kitty next door
An' I went to see the doctor and he gave me the cure
I think I got it some more

They give me cat scratch fever
Cat scratch fever
I got a bad scratch fever
The cat scratch fever

It's nothin' dangerous
I feel no pain
I've got the choo-choo train
You know you got it when you, you're going insane
It makes a grown man cry, cry, oh won't you make my bed

Well, I make the pussy purr with the stroke of my hand
They know they gettin' it from me
They know just where to go when they need their lovin' man
They know I'm doin' it for free

I give them cat scratch fever
Cat scratch fever
They got a bad scratch fever
The cat scratch fever

Cat scratch fever
Cat scratch fever
Cat scratch fever
Cat scratch fever

Cat scratch fever
Cat scratch fever