Mike Huckabee Once Threatened To Sue Owner Of MikeHuckabee.com For Copyright Infringement
"This letter shall serve as a demand upon you to cease use of the name 'Mike Huckabee' and the copyrighted logo in any internet domain name or website."
When Mike Huckabee was running for re-election as Arkansas's governor in 2002, his lawyers threatened legal action against the owner of the website MikeHuckabee.com, which hosted negative content about Huckabee.
Kevin Smith, an Air Force veteran in Redfield, Arkansas paid $10 to purchase MikeHuckabee.com in 2002, the Associated Press reported at the time. He started the site because he was angry with how the state Department of Human Services handled a case involving his 6-year-old daughter.
"Smith says he filed reports that his then one and a half year old daughter was being abused back in 1997," read a report from KTHV, a CBS affiliate. "His daughter is now six and he says she has been abused several times since then."
He sent a letter about the case to Huckabee's office, KTHV reported. The next day, he received this cease-and-desist letter saying action would be taken within five days if the site wasn't taken down.
From Smith's site in 2002:
The site contained a menu of negative stories about Huckabee and often links to news sites, such as an Arkansas Times article on Huckabee's use of the state police's plane.
Huckabee's team said it looked too much like his site and used his logo of his campaign site:
Here's a side-by-side look at the two sites: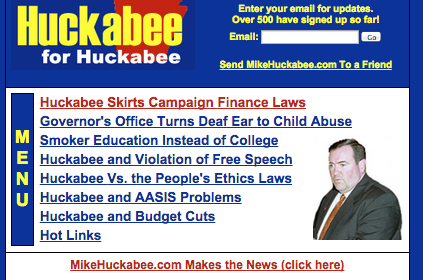 In the 2016 presidential election, domains names are now part of the back-and-forth contest between different interests. Go to TedCruz.com and you're met with the message "SUPPORT PRESIDENT OBAMA," "IMMIGRATION REFORM NOW." Earlier this year, the Democratic SuperPAC American Bridge launched JebBu.sh to troll the presidential candidate. Meanwhile, they're squatting on BushPortman.com and Bushsthirdterm.com.
"I am just putting information out there I feel the public needs to know about. No one had registered the Huckabee name, and I took it," Smith told the Associated Press in 2002, saying the site had 6000 hits a day.
Smith then received a four-page letter that said a lawsuit would come within two days if the site was not gone.
Eventually a Huckabee spokesman said a lawsuit would not happen and he was "not that upset about it. We are all aware that freedom of expression in the Internet is part of life today." The spokesman added, "it may be in poor taste, but that is reality of life on the Internet."
Huckabee didn't return a request for comment. Attempts to reach Smith were unsuccessful.