Mike Huckabee In 1992: Homosexuality Is "Learned Behavior," Death Penalty For Transmitting AIDS Virus Knowingly
A report from the local press says his crime plan included the death penalty for knowingly transmitting the AIDS virus.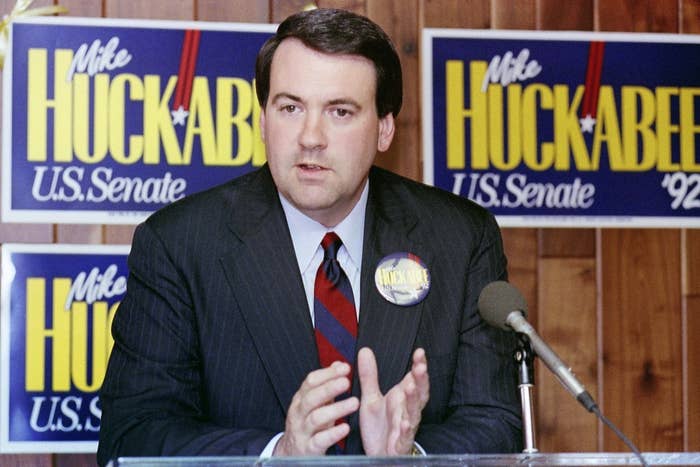 During his failed 1992 run for Senate in Arkansas, Mike Huckabee called homosexuality "learned behavior" and said that he told gay men he counseled to "control yourself." According to a newspaper report at the time, the former Arkansas governor also proposed the death penalty for people who knowingly transmitted the AIDS virus.
Here's the paragraph from the 1992 Arkansas Times cover story on Huckabee where he calls homosexuality "learned behavior" that needs to be controlled.
Well, there are more differences than that. Clinton supports gay rights. Huckabee, who says he has counseled many people who came to him and thought they were homosexual, calls homosexuality "learned behavior."

He says he tells gay-leaning people the same thing he tells men who come to him for counseling about extra-marital sexual urges. "You've got to control yourself."
An Arkansas Democrat-Gazette article from 1992 highlighting his crime plan noted Huckabee called for the death penalty for those who knowingly transmitted the AIDS virus. Huckabee was laying out his anti-crime agenda at a campaign stop where he also hit his campaign opponent Dale Bumpers for taking a $5000 donation from Time Warner Inc, the company that had released "Cop Killer" by Ice-T.
Huckabee's 1992 crime plan, according to the report, also called for information seized without a warrant to be admissible in court in "common sense" cases, the death penalty for trying to kill law enforcement or for major drug dealers, requiring people who steal to pay back twice their theft cost, and restitution payments for minor crimes instead of prison.
During his 2008 campaign for the presidency, Huckabee drew criticism when it was reported he said in a 1992 questionnaire for the Associated Press that people who had AIDS should be isolated from the general population.
In that 1992 questionnaire, Huckabee also called homosexuality, "an aberrant, unnatural, and sinful lifestyle, and we now know it can pose a dangerous public health risk."
Huckabee's campaign did not return a request for comment.
Here's the Arkansas Democrat-Gazette article from 1992 highlighting his crime plan: