The ad misspells McConnell's name at the end: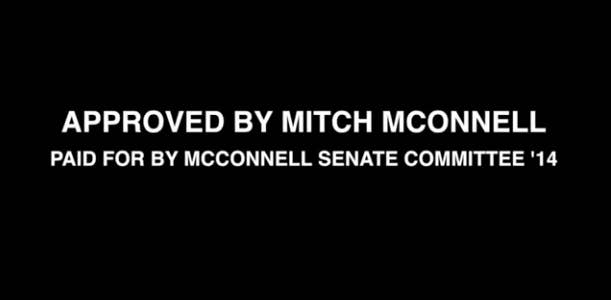 From the McConnell campaign press release:
LOUISVILLE – On the heels of her rollout which the Press have called "Poor," "Strange," "Bizarre and "Maybe the worst campaign rollout in Kentucky history," the McConnell Campaign has produced a potential campaign video for her poorly-planned effort.

"We hate to see someone flounder so badly, so we decided to give Alison a helping hand," said campaign manager Jesse Benton.

"Alison Lundergan Grimes spent months agonizing over whether she was interested in a Senate run, but after doing her "due diligence," she failed to prepare any materials or message to announce her campaign. She had no signs, no website, no speech, no policy positions, nothing."

"We, at Team Mitch, are nothing if not magnanimous, so decided to welcome her to the race with what we imagine her campaign theme song might be. The song highlights her signature initiative to "preserve, protect, and promote Alison Lundergan Grimes," and is entitled 'What Rhymes with Alison Lundergan Grimes?'

"We'll get to work on a campaign website."