McCain Walks Back Ted Cruz Comments: "I Assume That He Is Eligible"
The Arizona senator says he's just asking questions.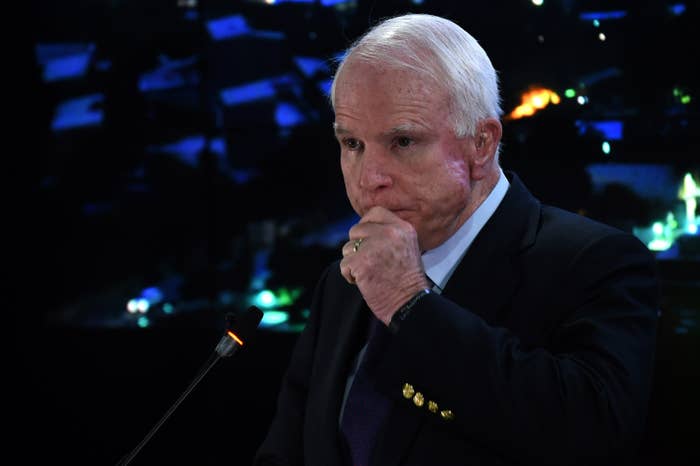 Arizona Sen. John McCain on Thursday walked back comments that he made earlier in the week when he said he wasn't sure if Canadian-born Ted Cruz is eligible to be president and that the Supreme Court may have to make the decision.
In a radio appearance on the Michael Medved Show, McCain said that he assumes the Texas senator is eligible to run for president until proven otherwise.
"This is something constitutional scholars should make a decision on. I assume that he is eligible, that's my assumption, and I will continue to assume that until it is contradicted," McCain said. "But it needs to be looked at, as every aspect of anyone who wants to be the president of the United States should be quote 'looked at,' and I don't see anything wrong with that. Should you and I say it shouldn't be looked at?"
Cruz's mother was an American citizen living in Canada at the time of Cruz's birth. The issue of Cruz's eligibility was raised by real estate mogul Donald Trump, who told the Washington Post that Cruz's Canadian birth would be a "big problem" for the Republican Party. Kentucky Sen. Rand Paul on Wednesday added that he was not sure if Cruz was eligible to be president of the United States either. (Though both men previously had said it was not an issue.) McCain himself added "I don't know" if Cruz's eligible in an earlier radio interview.
On Thursday, speaking with Medved, McCain categorized himself as merely asking questions.
"I do not know frankly whether, Sen. Cruz, where he falls in this scenario of this Constitution of the United States," McCain said. "But every aspect of a candidate needs to be looked at. I'm not saying, drawing any conclusions, or even an inference, but we have to look at all aspects of a candidates background, and this is just something I think needs to be looked at. I would assume that Sen. Cruz himself has looked into this if decided to run and has determined and has information that would put any question aside. The question has been raised, needs to be looked at. That's all."