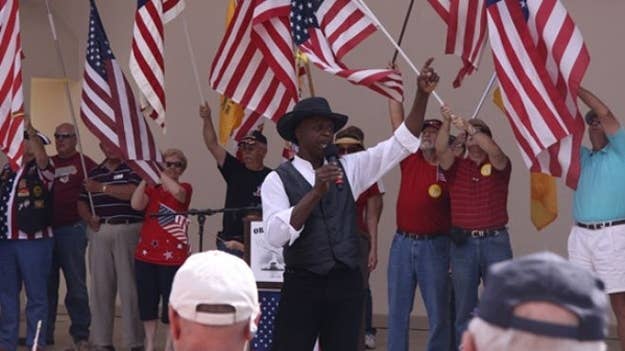 Leading Massachusetts Senate Republican candidate Michael Sullivan is getting some unsolicited help from a Tea Party leader who has called the same-sex marriage movement "dangerous" and "relentless, viscous, and hell-bent."
Lloyd Marcus, chairman of the Conservative Campaign Committee — formerly known as the known as the Campaign to Defeat Barack Obama — has pledged to raise $45,000 for radio ads and $115,000 for TV ads in support of Sullivan. Sullivan told the Boston Globe he has already raised $25,000 and sent out an e-mail asking for volunteers in Boston to film an ad in support of Sullivan.
Marcus's anti-gay comments appear to run contrary to Sullivan's more moderate stance on gay rights, and his closeness to Marcus could hurt Sullivan's general election hopes if he wins the Republican primary.
"Think of us as crew members on the Starship Enterprise, boldly going where no one has gone before. That's what it feels like challenging the 'homosexuality is normal' movement. It is dangerous," Marcus wrote in one blog post.
"The 'homosexuality is normal' movement is not staffed with passive, well-meaning victims seeking tolerance and their place in the sun. They are relentless, viscous and hell-bent on forcing all of us, particularly Christians, to say their behavior is normal. God help us," Marcus added concluding his post.
The Sullivan campaign manager offered tactic approval of the support, telling the Globe, "We don't have a litmus test for someone who walks in the door and wants to lick an envelope" and "anyone who wants to get out and help Mike is welcome to get out and help Mike"
Although Sullivan has said he personally believes marriage is between one man and one woman, he supports the repeal of DOMA and supports giving the same-sex couples benefits similar to heterosexual married couples, and thinks each state should be free to make up their decision on marriage equality
Sullivans says "it is up to the people of each individual state to define marriage and provide benefits as they see fit, including whether or not to recognize same sex marriage, and not the federal government," adding he supports Massachusetts decade-long decision recognizing gay marriage.
The Sullivan campaign responding saying "Mike is a candidate who welcomes everyone to be involved," adding that they "certainly can't control what people do on the outside."