Marco Rubio: Trump Is A "Touchy And Insecure" Guy Who's Not Informed On The Issues
"He had a really bad debate performance last week."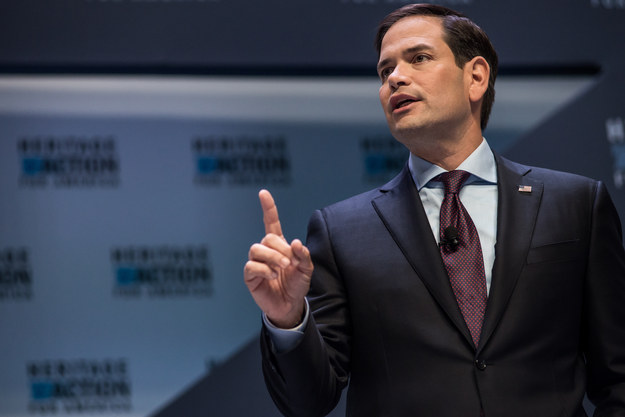 Marco Rubio struck back at Donald Trump on Thursday, labeling Trump as a "touchy and insecure guy" who's not informed on the issues.
"First of all, he takes shots at everybody that gets anywhere close to him, in terms of a poll, or anytime he hits a rough spot that's what he does," the Florida senator said of Trump on Kentucky Sports Radio.
"He had a really bad debate performance last week," continued Rubio. "He's not well informed on the issues. He really never talks about issues and can't have more than a 10-second soundbite on any key issue. And I think he's kind of been exposed a little bit over the last seven days, and he's a very touchy and insecure guy and so that's how he reacts, and people can see through it."
Trump singled out Rubio in two campaign stops in South Carolina this week, labeling him a "lightweight," sweaty, and financially unsuccessful.
Rubio said he was the only candidate speaking about embracing new policies for the 21st century.
"I just feel like in this race I'm the only one that's talking about it this way and most certainly when in comparison to the individual you just mentioned (Trump), that's true, but in general," said Rubio.
"We're building a campaign that's designed to be successful when the votes actually count," Rubio added. "We feel confident if we continue to do what we need to do we're gonna get there."