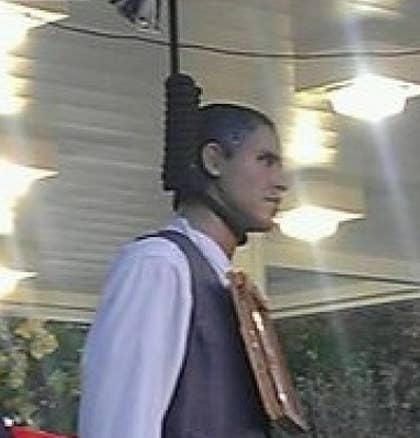 A North Carolina resident named VR Phipps is traveling the country in a truck displaying a hanged effigy of President Barack Obama, drawing the shock of local residents and the attention of the Secret Service.
Phipps says he's protesting the murders of family members by local law enforcement. He says that a cover-up has successfully prevented him from getting justice for his family.
"All we want is what Trayvon Martin's family wants. Justice," Phipps says in a video on his YouTube channel.

The truck was first spotted by Mike Opelka, a reporter for Glenn Beck's website The Blaze, back in May while driving through Midtown Manhattan.
"After two decades of living and working in Manhattan, this average New Yorker believed he had seen everything. Today proved that to be a false assumption," Opelka wrote.
Phipps denied racism was a motivation for the hanging in another video posted on his channel.
"You say it's racism, well, I tell you it's not. It's absolutely not. We have been hanging people in effigy when George Bush was President. I would have hanged him no problem. It wouldn't have been a problem at all."
In September, the truck was seen in Charlotte during the Democratic National Committee. State troopers told WBTV in Charlotte they stopped the truck for a vehicle equipment violation but issed a warning.
Later in September, the truck was seen driving through Goldsboro, North Carolina, shocking residents. The Secret Service told locals they were aware of the truck.
On Tumblr today, a user posted having seen the truck in Jacksonville, Florida.