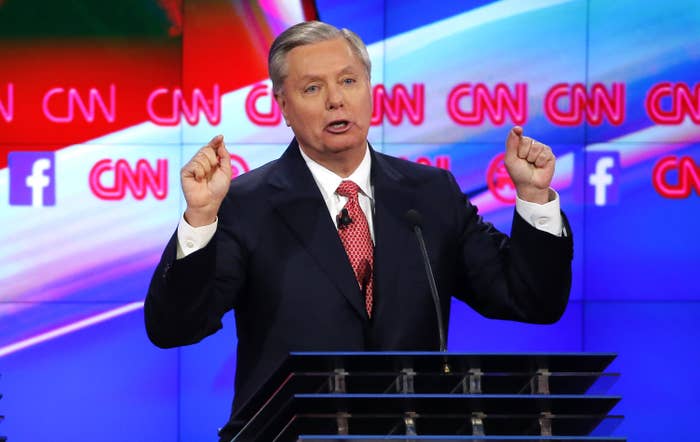 In a radio interview on Thursday, South Carolina Sen. Lindsey Graham called Donald Trump a demagogue who has used racial dog whistles to gin up support in the primary.
"Donald Trump policy positions on immigration, his judgement, his tone, his temperament — 49% of the people say they would be scared if he's president," Graham said on the Kilmeade and Friends radio program on Thursday morning. "Why does David Duke like Donald Trump? If you think Donald Trump is gonna sell to the American people, you're not listening to them when talk about what they want in the next president."
Graham said he doesn't think Trump is a racist, but called him a demagogue who uses racial dog whistles to win votes.
"I think Donald Trump is a demagogue. I don't think he's personally racist. I think he whistles things that help in a primary that would kill him in a general election."
The South Carolina senator criticized Trump's comments on undocumented immigrations, Muslim immigration, and Megyn Kelly.
"That's the only person Hillary Clinton can beat," said Graham, who in January (on the same show) also said Clinton would "cream" Ted Cruz (who he just endorsed).
"If we nominate Donald Trump we're gonna lose and we deserve it."