Lindsey Graham On Kim Davis: We're Not A Theocracy
Cough, Mike Huckabee, cough, cough.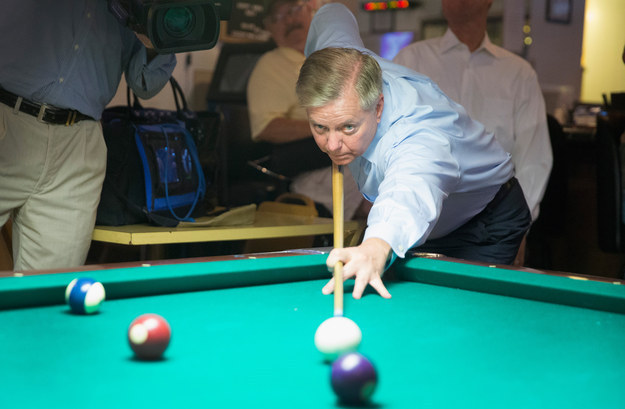 South Carolina Sen. Lindsay Graham, in an interview this week with radio host Michael Medved, broke with his presidential rivals Ted Cruz and Mike Huckabee over their support for Kentucky Clerk Kim Davis, saying he doesn't want to be a candidate who doesn't understand "we're a constitutional democracy not a theocracy."
Graham said he doesn't believe Rowan County clerk Kim Davis should have had to go to jail, but he added that "the secular law of the land is the United States Constitution."
"All I can say is that appointing Supreme Court justices really matters, and I don't want to lose an election we're about to win," said Graham. "I don't want to be a presidential candidate that seems not to understand we're a constitutional democracy not a theocracy.
"I can sympathize with those who feel like traditional marriage is under attack and the court is wrong," added the South Carolina senator. "But I can not say as a conservative that the court's decision does not apply because I dislike it. I can not say as a conservative there is not a judicial interpretation of the Constitution that is supreme when it comes to how the Constitution works."
"The judiciary has the authority to interpret the constitution. Sometimes we like it, sometimes we don't, but conservatives are rule of law people. This is not a theocracy it's a democracy."
Former Arkansas Gov. Huckabee has repeatedly said he wouldn't listen to the Supreme Court as president.
Here's the audio: