Lindsey Graham: No Death Penalty For CT Home Invaders "Makes Me Want To Throw Up"
"I don't know how the judges can live with themselves..."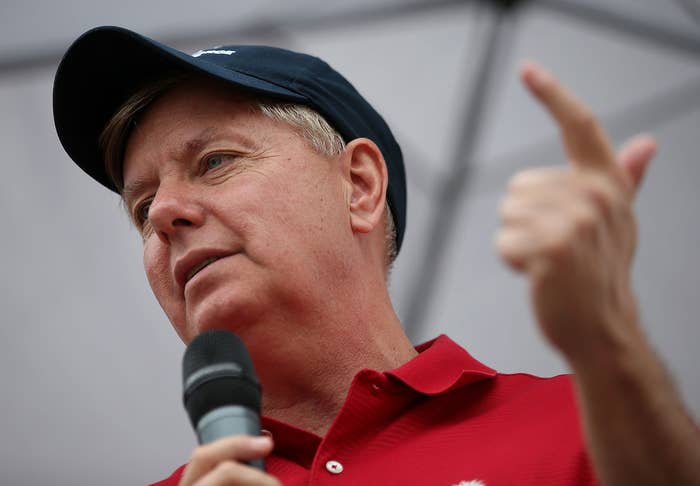 South Carolina Sen. Lindsey Graham says the Connecticut Supreme Court decision that the death penalty violates the state's constitution -- sparing the perpetrators of a horrific 2007 home invasion and murder from execution -- makes him physically ill.
Steven Hayes and Joshua Komisarjevsky were both sentenced to death for killing and setting on fire Jennifer Hawke-Petit and her daughters Hayley, 17, and Michaela, 11.
"Makes me want to throw up. Makes me want to throw up when I hear that putting these two guys to death for what they did to that family is somehow outside of the standards of decency," Graham stated Monday to radio host Michael Medved.
"You know, society has the ability and the right to protect itself against wrongdoers," continued Graham. "We have a criminal justice system that's supposed to give everyone a fair trial, but when the case is over and the person's been found guilty dispose of the case for the punishment consistent with the crime."
The Connecticut state legislature repealed the death penalty for any future crimes in 2012, but the state supreme court's decision spared the lives of 11 Connecticut death row inmates who had been sentenced before the death penalty was repealed.
"If this doesn't cry out for the death penalty nothing ever would and I don't think you're an indecent society when you take two men who broke into a family's home, tortured two young girls, raped them, burned them alive -- I don't think that makes us indecent that they would be administered the death penalty," declared Graham.
"It is such an outrage to me. I don't know how the judges can live with themselves, but the law is the law," he added. "You know if I'm president of the United States, under my administration, my Attorney General - we're going to prosecute people like this to the fullest extent of the law. I doubt if there's any federal jurisdiction in a case like this, but it would be worth looking at."
Graham further questioned the legal training of the judges.
"What kind of legal training have they had," he said. "What upbringing has allowed to arrive at the conclusion that those two people, killing them through the judicial system that imposes the death penalty somehow makes us an indecent society?"