Kerry, Hagel Didn't Vote For 2003 Bill Obama Administation Cites Making The Case For Syria Action
The then-Senators missed the vote.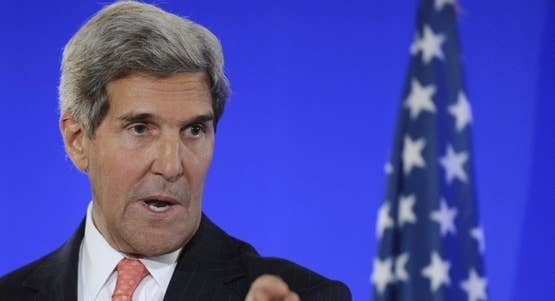 Secretary of State John Kerry didn't vote for a 2003 law he cited in making the case for U.S. military intervention in Syria while appearing before the Senate Foreign Relations Committee Tuesday. Neither did Secretary of Defense Chuck Hagel who was sitting besides him.
"This debate is also about Congress' own redline. You – the United States Congress – agreed to the Chemical Weapons Convention. You – the United States Congress – passed the Syria Accountability Act, which says Syria's chemical weapons are, quote, 'threaten the security of the Middle East and the national security interests of the United States,'" Kerry said in his opening remarks.
The Syrian Accountability Act passed the Senate by a vote of 89-4 with 7 Senators -- including Hagel and Kerry -- not voting.
Kerry was, however, a co-sponsor of the bill and cited it in his 2004 platform as the Democratic candidate for president on Israel even mentioning it in an op-ed in the Jewish newspaper Forward during his presidential campaign.
The bill said Syria should halt "support for terrorism, end its occupation of Lebanon, and stop its development of weapons of mass destruction" and that Syria could be held accountable "for the serious international security problems it has caused in the Middle East, and for other purposes."
The bill also states "the Government of Syria should halt the development and deployment of medium- and long-range surface-to-surface missiles and cease the development and production of biological and chemical weapons."
Kerry cited additionally the law in his testimony to say that responding to Syria's use of chemical weapons was a responsibility of the United States.
"Now, some will also question the extent of our responsibility; to them, I say when someone kills hundreds of children with a weapon the world has banned, we are all responsible," Kerry said. "That is true because of treaties like the Geneva Convention and the Chemical Weapons Convention and for us, the Syria Accountability Act. But it's also true because we share a common humanity and a common decency."
President Obama cited the law in a press conference in Sweden Wednesday as well.
"Congress set a red line when it indicated that -- in a piece of legislation titled the Syria Accountability Act -- that some of the horrendous things that are happening on the ground there need to be answered for," Obama said.