Jim Gilmore: "I'm Not Some Weirdo," I Was Governor Of A State
More like not happy Gilmore.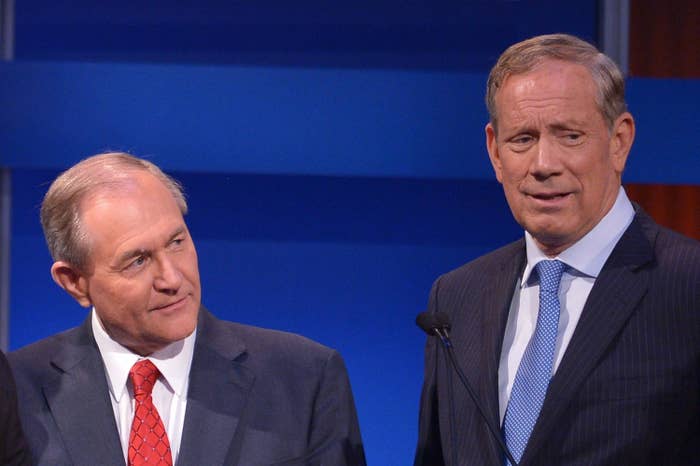 Though Virginia Gov. Jim Gilmore barely registers in the polls at all, he will be on the ballot in at least two primary states, South Carolina and New Hampshire. In an early state radio interview on Monday he lashed out the media and RNC for keeping him out of the debates.
"They just did the wrong thing, two different motives here, but they've got a devil's conspiracy between them," Gilmore told Girard at Large radio show. "The motive of the RNC was to try to winnow the field for the public and say, 'No, these people should have a chance and these people shouldn't.' But the whole process got out of their control and now everything they were trying to do is backfiring on them."
"As for the national press, they're trying to sell commercials. They want the best show that they can get," he added. "They're not really fulfilling their duty to the people of the United States. Their public duty that justifies their having an airwaves license. They're not doing that. They're playing games themselves with the system, and that's not right."
Gilmore said, however, retail politics in New Hampshire were a "corrective" and "remedy" for the national debate. Still, Gilmore said many people don't even know he's running.
"I have people in New Hampshire say, 'Well, gee, I didn't know you were running,' well that's right because Morning Joe isn't Morning Joe, it's Morning Trump," he said. "That's right, so this is an opportunity to get in here and become known, speak to the people of this state, offer my candidacy as to what I want to do for the people."
"I'm not some weirdo that's out here just kinda running crazy, I'm the former governor of the state of Virginia," he continued. "I'm the former chairman of the Republican National Committee. I am world traveled, I not only have the credentials of being the chief executive of a state but I have deep foreign policy credentials. I am a United States army veteran. I was the governor during the 9/11 attack when the pentagon was struck. I have the credentials to deal with foreign policy issues that the other former governors simply don't have. So I have a right to come out here to tell the people of New Hampshire they ought to be supporting me and to campaign for it."