Jeremy Epstein Is Still Looking For A Job
The college student was thrust into the spotlight when he asked Obama and Romney about finding a job after graduation at the October town hall debate.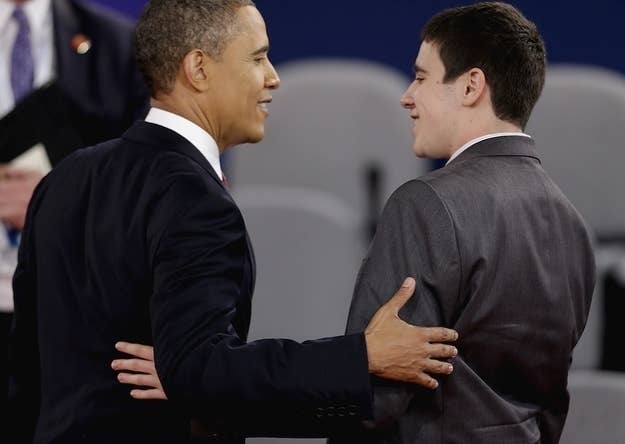 "Every now and then someone stops me on the street and says, 'Hey, I recognize you,'" says Jeremy Epstein, the 21-year-old Hofstra college student who was thrust in the national spotlight last October when he stood before President Obama, Mitt Romney and 65.5 million Americans watching across the nation to ask the first question at the presidential town hall debate. "The latest thing that happened is someone stopped me on the street and said, 'Hey Jeremy did you get a job yet?'"
At the debate, Epstein made headlines for asking the candidates about finding a job after graduation. "Mr. President, Governor Romney, as a 20-year-old college student, all I hear from professors, neighbors and others is that when I graduate, I will have little chance to get employment," he asked. "Can — what can you say to reassure me, but more importantly my parents, that I will be able to sufficiently support myself after I graduate?"
Epstein did not find a summer job but is doing some work at his school's radio station 88.7. He's even hosting a show.
"I've applied for a couple. I've applied for a few internships, but right now I'm working at my school radio station for the summer. I'm hoping to pursue a career in journalism," he says.
But Epstein thinks the economy may be looking up for college students.
"It's not something that's going to be fixed overnight. If I had to say now, I'd say it would still be pretty tough for me to find a job even though Mitt Romney promised me a job, but that's probably not going to happen. I think it's turning around a little bit but it's tough to tell. I think overall the economy may be looking up for students my age."
Epstein hopes the attention he's received — and the post-debate media interviews that have followed — will help his job search. The overall economic outlook, he thinks, looks the same.
"From my personal experience, I would say it has a better outlook because the career I want to pursue is journalism and I've had a lot more opportunities through television and radio. Going on all these interviews, trying to make an impression for me, that alone has made it better. But the overall, the economy, I think it's still the same," he says. "It could go up. It could go down. It could stay the same. I think I will have a better chance of getting a job when I graduate than I thought before the debate, but it's still really up for grabs," he added.
Epstein's is hosting his first show on his school's radio station on Thursday, called Jazz Cafe.
"Tomorrow actually I'm hosting my first show, Jazz Cafe," Epstein said. "It's really like an entry level thing. I joined the training class for the spring semester and then I passed that. Right now, I'm working for their program Newsline just doing national news and weather. So, it's entry level, but I'm trying to work my way up. The radio station is very prestigious and has a great reputation so I'm honored to be a part of it."
Epstein says he's thinking of taking classes the second half of the summer at Hofstra, along with working on the radio show but he's also planning on getting some rest.
"I'm trying to find a little time to decompress."
Life is "still a little crazy," he says.