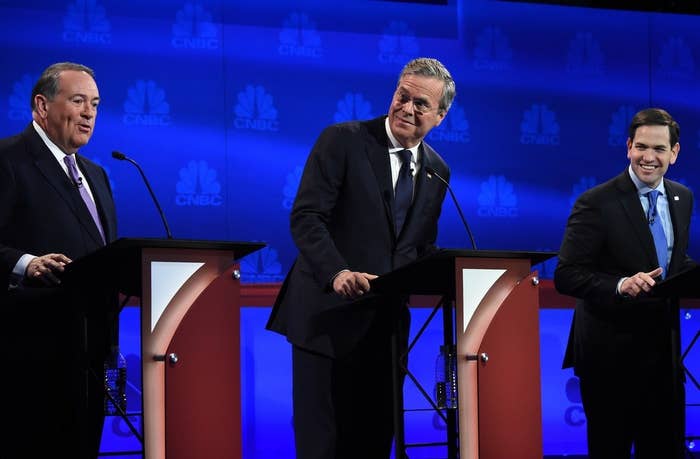 Former Florida Gov. Jeb Bush said he has to become a better "performer" in the debates after his showings at the first three debates were criticized by political commentators and those within his own party.
"Well it isn't a debate, it's a performance and I've got to get better as a performer," Bush said on New Hampshire's Concord News Radio on Monday morning. "I think that's the better way of saying it."
Bush said he wasn't complaining, just saying the debate wasn't really a debate.
"A debate would look a lot different than having 10, 11 people on a stage where gotcha questions are asked," he said. "I mean, it is, it is important. I'm not discounting it. I'm not complaining at all. I'm gonna get better at that for sure."
Bush said a real debate would be a "deeper conversion" about what's on the minds of voters, saying people were concerned about "pocketbook issues" and "national security issues" not fantasy football.
"So it's part of the process and I'm pledging to myself to do better, cause I know a lot of people watch this and they're informed by that part of the process," he added.
On South Carolina's The Morning Report with Jay & John Bush hit a similar line, saying the debates didn't need to be changed, but have rules applied fairly.
"You know, I'm not, I just think the issue is whatever the rules are, apply them, and apply them fairly," Bush said when asked if changes were need to the debates. "Don't say you are going to do one thing, and do something completely different.
"That's the problem with CNBC, was that they said that they were going to have a substantive debate and it was going to be the moderators would control the debate and make sure that everybody had similar kind of access to the stage, to the questions and then it didn't work," he continued. "Didn't even come close to doing it, in any of the things they promise, so, whatever the rules of engagement are, make sure that you apply them clearly, and make sure that they are applied."
Bush said if people thought the debates were hard imagine facing down Russian President Vladimir Putin.
"That is the only suggestion that I have to the team," he said. "Other than that, look—this is all part of the process and I'm not complaining at all. I think, I got to get better at debates, I'm not saying well, life's not fair, you think this is hard, how do you think it's going to be dealing with Putin?"