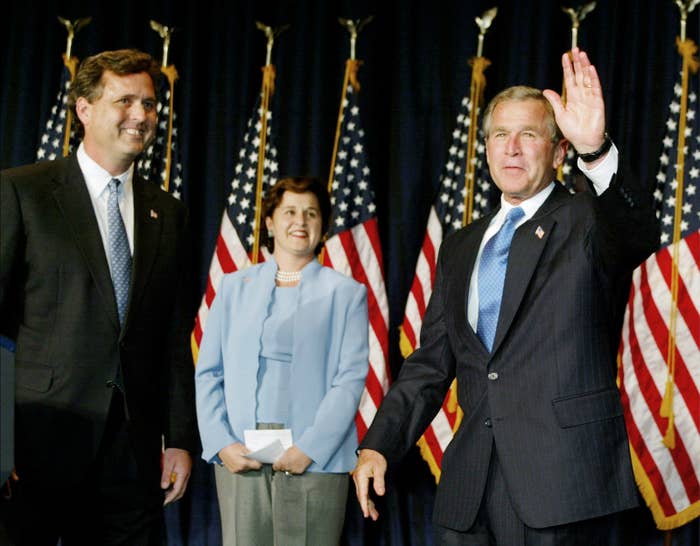 Marvin Bush, the brother of former President George W. Bush and former Florida Gov. Jeb Bush, said on local sports radio in Washington D.C. on Wednesday that he's supporting Libertarian nominee Gary Johnson for president.

Bush was speaking on The Junkies on 106.7 The Fan when he made the comments. Bush's daughter confirmed to BuzzFeed News it was him on the radio and that he was endorsing Johnson.

"That's why I'm voting libertarian, 100%, these two guys—and nobody knows about them, people think it is sort of a wasted vote—but, both Gary Johnson and Bill Weld were each successful two term governors who balanced their budgets," Bush said. "So they're fiscally conservative and their essential message is get bureaucracy off our backs. It used to be a part of what the Republicans believed."
Bush said some of his friends told him a vote for Gary Johnson would help Trump.
"I don't necessarily buy it, first of all, I want to have a conscience," added Bush. "I want honest leadership. I want proven effective people running this country and so, I want to be able to go to bed at night and so I don't really care about that."
Earlier, Bush said he worried about children who see Donald Trump tearing negatively into his opponents like he did his brother Jeb.
"Some of these kids are saying, 'hey the best way to win is to rip somebody's ass apart,' somebody else's ass apart, and to run them down," Bush said. "And so when Trump's talking abou John McCain not being a hero, it's very frustrating."
He added he thought Hillary Clinton was "one of the most dishonest people that's ever been in politics."