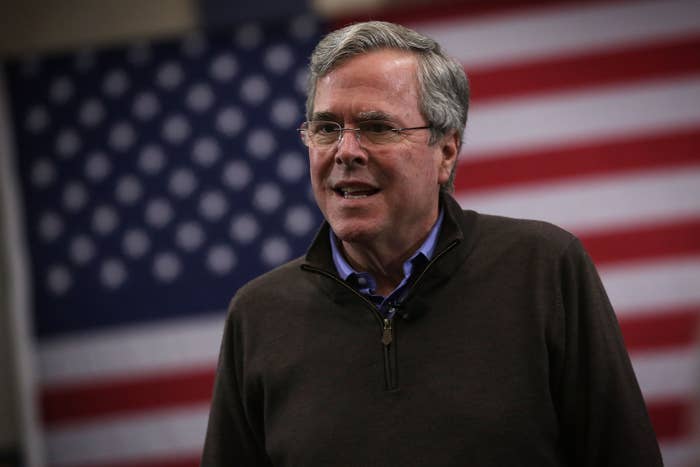 Republican presidential candidate Jeb Bush cited his experience as head of the Florida National Guard in a radio interview Friday to counter claims from Marco Rubio that he lacked foreign policy credentials. The former Florida governor singled out the Florida Guard that ran the scandal-plagued Abu Ghraib prison in Iraq as proof of his foreign policy chops.
A Bush spokesman said the governor was referring to the prison post-scandal.
"Jeb visited Florida Guard troops in Iraq in 2006 who were serving their country admirably and helping turn that prison back over to the Iraqis following scandal," said Tim Miller. "Those troops should be commended for their service and their sacrifice. Jeb's experience is validated by over 40 admirals and generals who have endorsed his campaign because he is best prepared to be Commander-in-Chief on day one."
In recent days Rubio has attacked Bush for having "no foreign policy experience." Speaking on Kilmeade and Friends Friday, Bush noted his plethora of knowledge in world affairs.
"The commander-in-chief has had to have some leadership experience beforehand," Bush said. "Attending a committee occasionally and learning from sophisticated people about the threats on the world... you know, I can get briefed, as I have about that. The question is who has the steady hand, who won't cut and run. Who has the leadership to make tough decisions? And that's what I bring."
Bush cited his private sector experience abroad, his trade missions overseas, and his record commanding the Florida National Guard. In particular, Bush noted the Florida National Guard work at Abu Ghraib prison in Iraq.
"I was commander-in-chief of the National Guard. I visited Iraq and Afghanistan. The National Guard in Florida took the responsibility of running Abu Ghraib prison. I walked that prison. I saw the heroic effort of the citizen soldiers taking care of their job with great distinction. I supported our Guard in every possible way."
"I know a little bit about this because I was governor the state of Florida and frankly Brian, I've also had a front seat," continued Bush. "I've had a brother who was president. I've had father who was president and I've learned from them a lot as well."