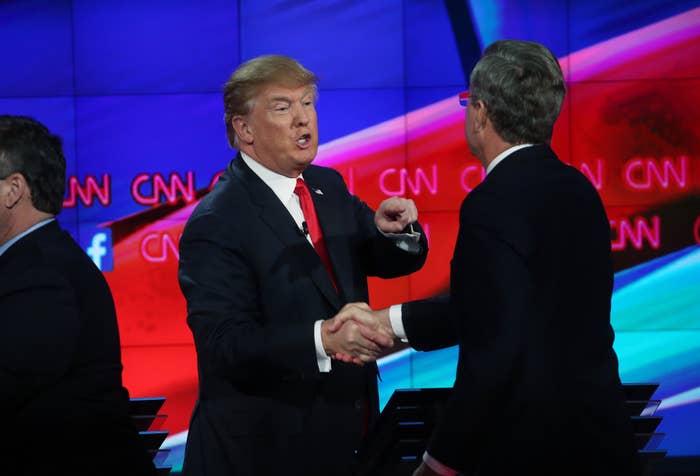 Jeb Bush on Monday came to Donald Trump's defense against Hillary Clinton's claim that ISIS is using the businessman in recruiting videos.
While he noted his disagreement with Trump's ban on Muslims entering the United States, Bush said it took "chutzpah" for Clinton to attack Trump without any evidence.
"Hillary Clinton suggesting that Donald Trump is being used in an ISIS recruiting video, man, talk about chutzpah," the former Florida governor said on Bill Bennet's radio program. "There's no evidence of that. There's no evidence of that at all."
At the Democratic presidential debate on Saturday, Clinton said Trump was "becoming ISIS' best recruiter," and added, ""They are going to people showing videos of Donald Trump insulting Islam and Muslims in order to recruit more radical jihadists."
No evidence has emerged to back Clinton's claim.
Bush said she was employing the "Benghazi excuse."
"Everybody knows the Benghazi excuse, that it was a video there," he added. "I could not believe she said that without any evidence. This is how they play the game on the left. They're always blaming somebody. In this case, while I don't agree with Trump's idea, I don't think he has anything to do with being a part of a recruiting video."