Hurricane Sandy Villain Is Tweeting Again
Shashank Tripathi, who goes by the Twitter alias @ComfortablySmug, started tweeting again on March 3.
Tripathi's Tweets During Hurricane Sandy: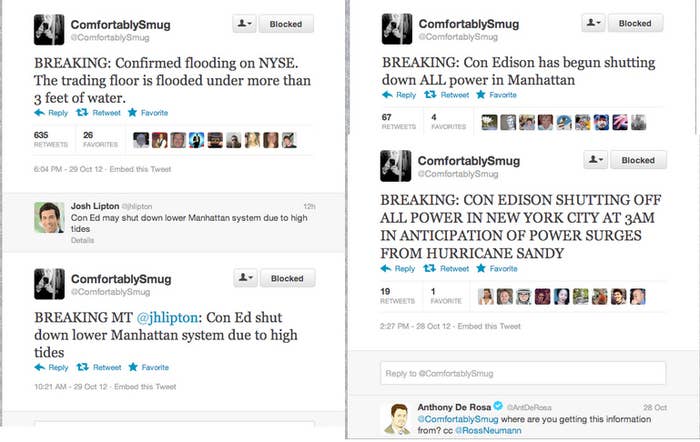 Hurricane Sandy's most notorious villain is tweeting again.
Shashnk Tripathi, the man who deliberately spread misinformation during Hurricane Sandy, started tweeting again from his Twitter account @comfortablysmug on March 3.
While Hurricane Sandy ravaged New York City, Tripathi was the source of tons of scary, but ultimately false information about the storm's effects on New York City. His fake news spread wildly on Twitter because many of his followers were members of the media.
He reported, falsely, on a total blackout in Manhattan, on a flood on the floor of the New York Stock Exchange, and on other things that didn't happen. Some of his tweets even made it to television, with his Stock Exchange tweet being reported on The Weather Channel and CNN.
Ultimately, Con Ed, the MTA, and Stock Exchange sources had to take time during the crisis situation to refute these claims.
Shashank Tripathi, while anonymous on Twitter, was the campaign manager for Christopher R. Wight, a Republican candidate for the U.S. House from New York's 12th Congressional District.
Tripathi resigned after his tweets came to light in a report by BuzzFeed saying in a statement at the time, "I wish to offer the people of New York a sincere, humble and unconditional apology."
Tripathi's Tweets: