Huckabee On Planned Parenthood Video: "Only Since The Nazis" Have We Seen Such Indifference To Human Life
"...I just found myself chilled and thinking, only since the Nazis have we seen such coldblooded indifference to human life."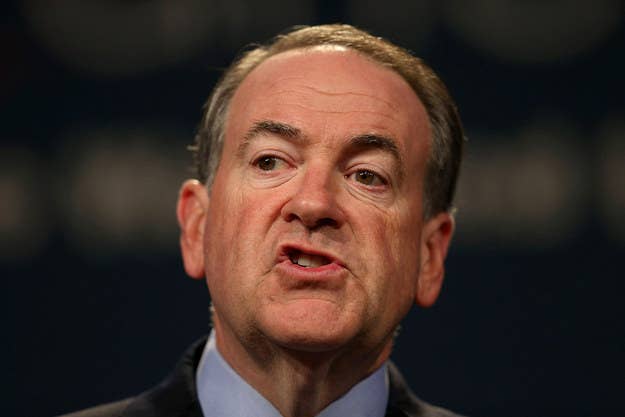 Republican presidential candidate and former Arkansas Gov. Mike Huckabee said Planned Parenthood's national medical director discussing the sale of fetal body parts harvested from abortions in an undercover video is one the worst things we've seen since the Nazis.
"What's maybe the most the disturbing part of it is to watch this women talk about selling baby parts, specifically the lungs, the heart, the livers, the lower extremities, and how to use the forceps as to not to crush them and damage the parts -- when the baby has already been murdered," Huckabee told radio host Eric Metaxas on Wednesday.
"And for her to do all of this conversation and to talk about how much each of those parts brings, with a fork in her hand as she sits and enjoys a casual lunch. It is bad enough that someone would be so devoid of any sense of decency and civilized behavior that they would treat a human being and the various elements of that human being as commodities to be traded and sold on the market place. But to do it over lunch, I just found myself chilled and thinking, only since the Nazis have we seen such coldblooded indifference to human life."
An undercover video recorded a year ago and released Tuesday morning by the Center for Medical Progress shows Dr. Deborah Nucatola, the senior director of medical services at Planned Parenthood, speaking in detail about fetal body parts, how they are harvested from abortions, and the costs associated with that procedure, with activists pretending to be from a fetal tissue procurement company. Planned Parenthood said Tuesday the video misrepresents their participation in tissue donation programs.
Huckabee, who called Planned Parenthood "a kill for hire organization," said that as president he would have the attorney general investigate Planned Parenthood and "it needs to happen now."
"If I were president I would order the attorney general to fully investigate and prosecute to the fullest extend of the law any instances in which human parts are being sold and traded as a community because it violates federal law and we would be also immediately suspending all funding to Planned Parenthood," stated Huckabee.
"I would love to see a Congressional investigation but we need something more urgent than that. That's going to take months, an attorney general needs prosecution and that needs to get immediately -- not later, not months, it needs to happen now."